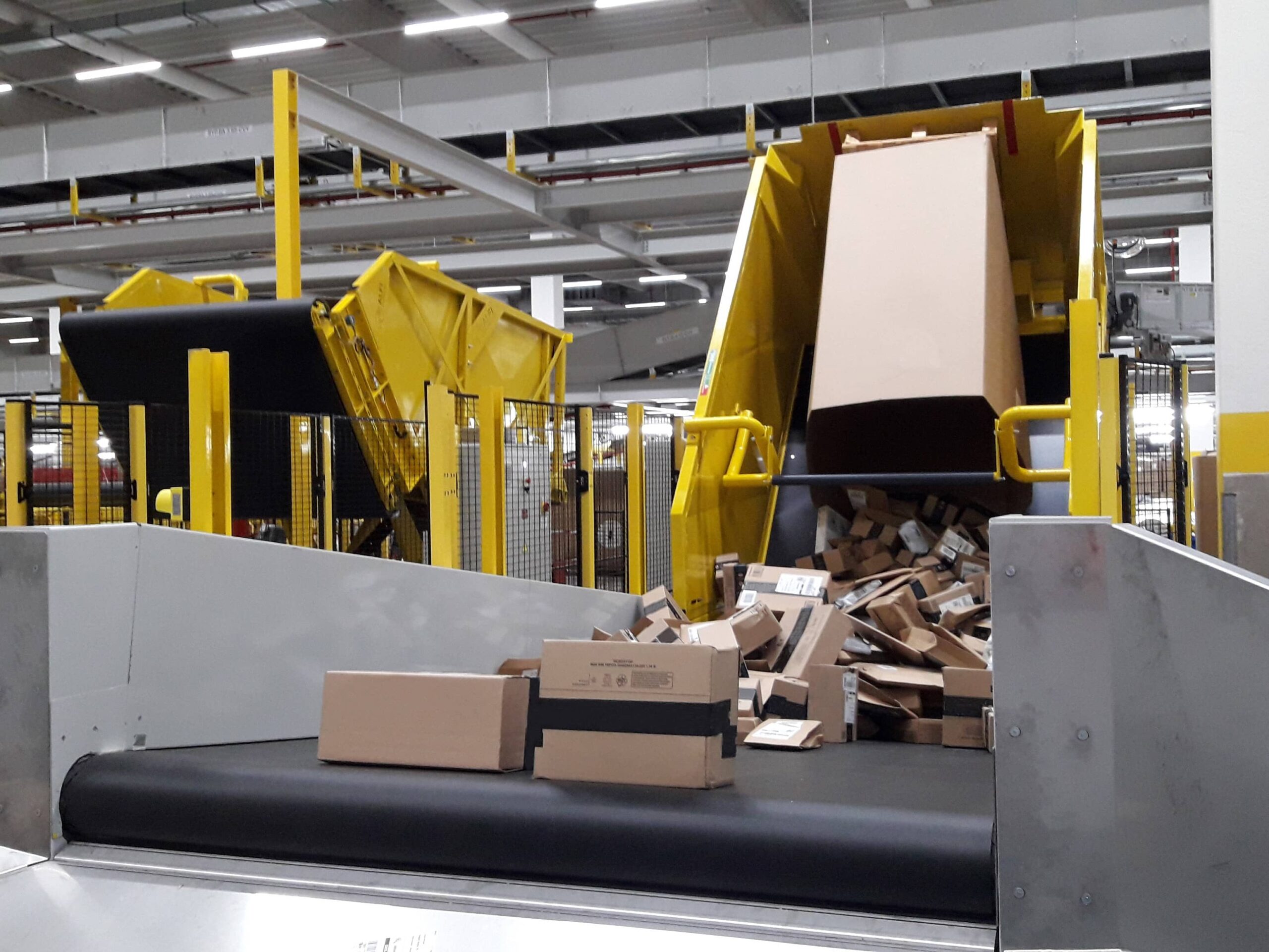 U-CARE C : cardboards, containers and cages unloader
Parcel unloading machine for postal sorting centers and e-commerce. The U-CARE C tipper allows a fast and gentle unloading of containers, while respecting the integrity of the packages. An ergonomic solution for operators who no longer have to carry parcels.
What is the U-CARE C tipper ?
The U-CARE C is a full electric unloader for containers and pallets that guarantees smooth handling by the use of a "lid" conveyor. This equipment is used by every sorting and e-commerce centers which receive parcels and packages loaded in containers or placed on pallets. These parcels can then be transfred on singulation conveyors.
This parcel unloader allows you to empty almost any type of container: pallet, gaylord, rolling cage, boxes… After having inserted the container, the tipper tilts. Then, the packages fall gently on the cover conveyor and are evacuated on the reception conveyor.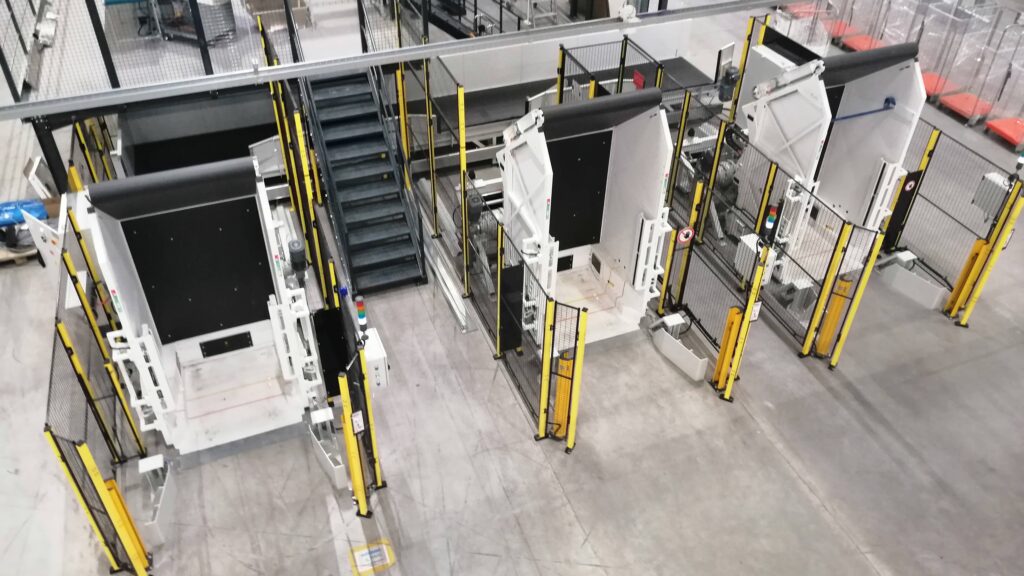 Why choosing ALFI U-CARE C tipper?
The U-CARE C tipper is our latest and most advanced design for parcel unloading. With over 15 years of development in partnership with our customers, the U-CARE C is surely the most versatile, economical and reliable parcel unloader on the market.
The U-CARE C can unload almost any type of container thanks to its clamping jaws. It can also manage containers that were not originally planned.
With over 50 U-CARE C tippers already installed in the biggest names in the postal and parcel management industry, these unloaders are a reliable solution.
Standard U-CARE C cycle description
Step 1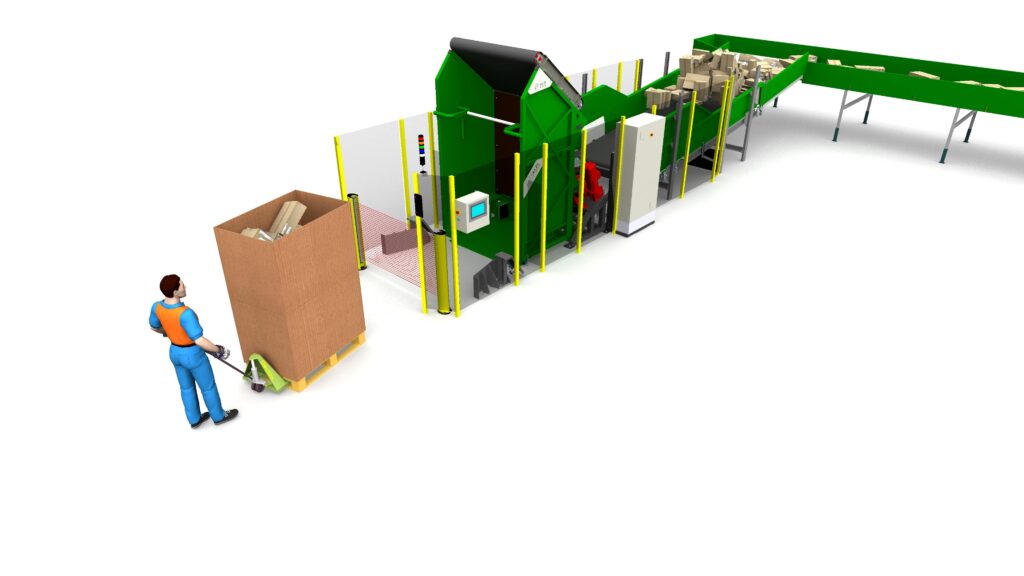 Step 2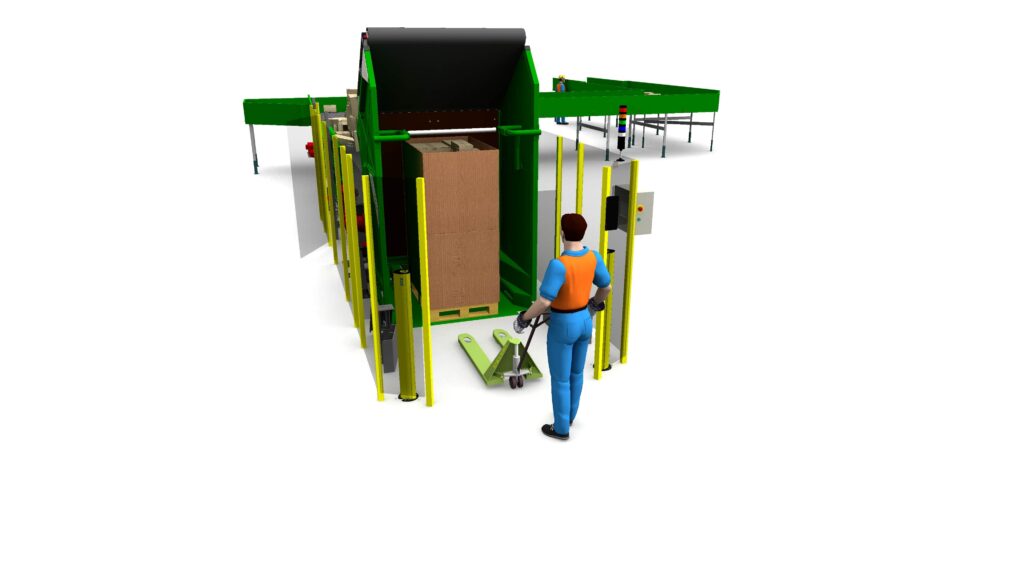 Step 3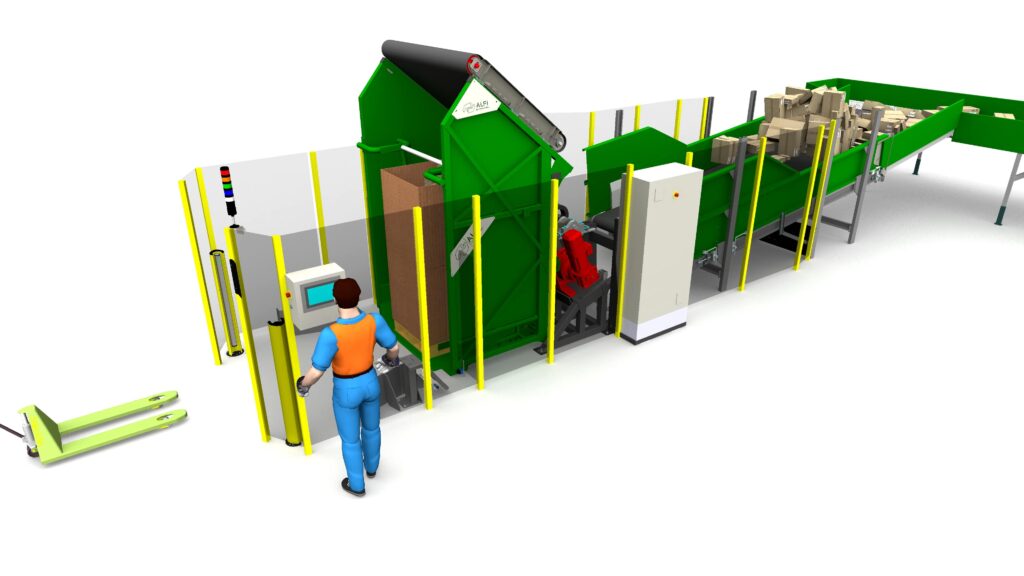 Step 4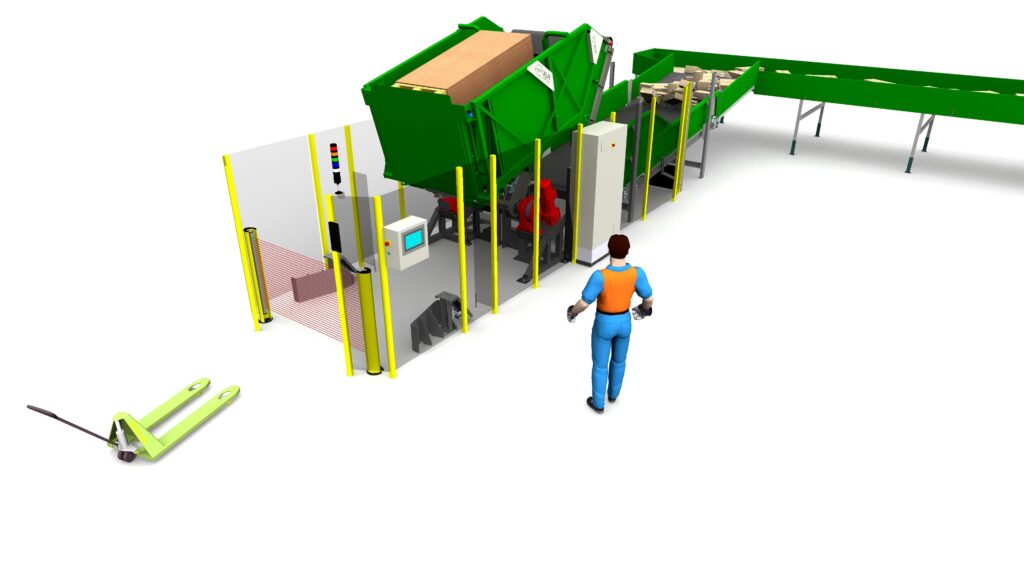 Step 5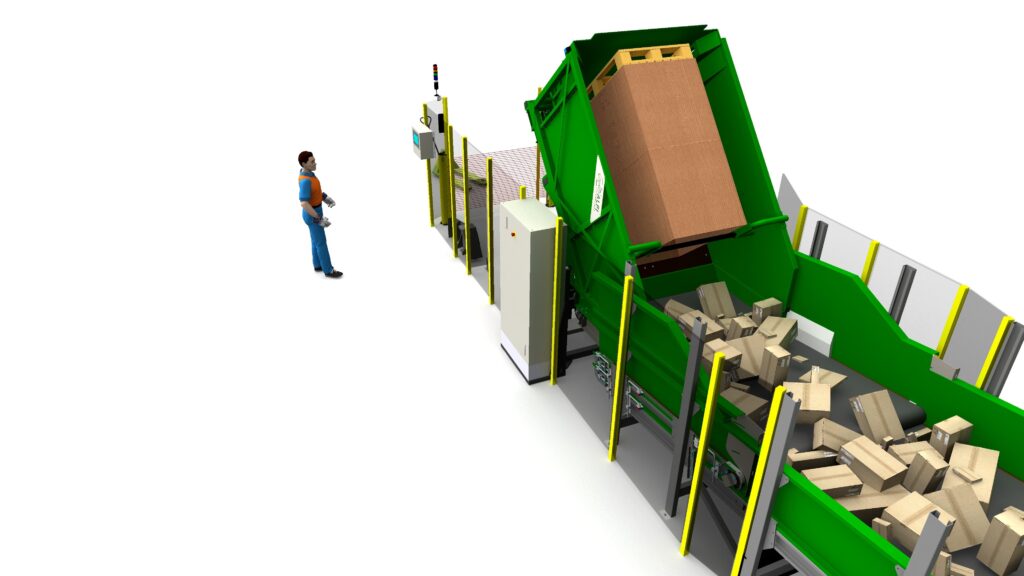 Step 6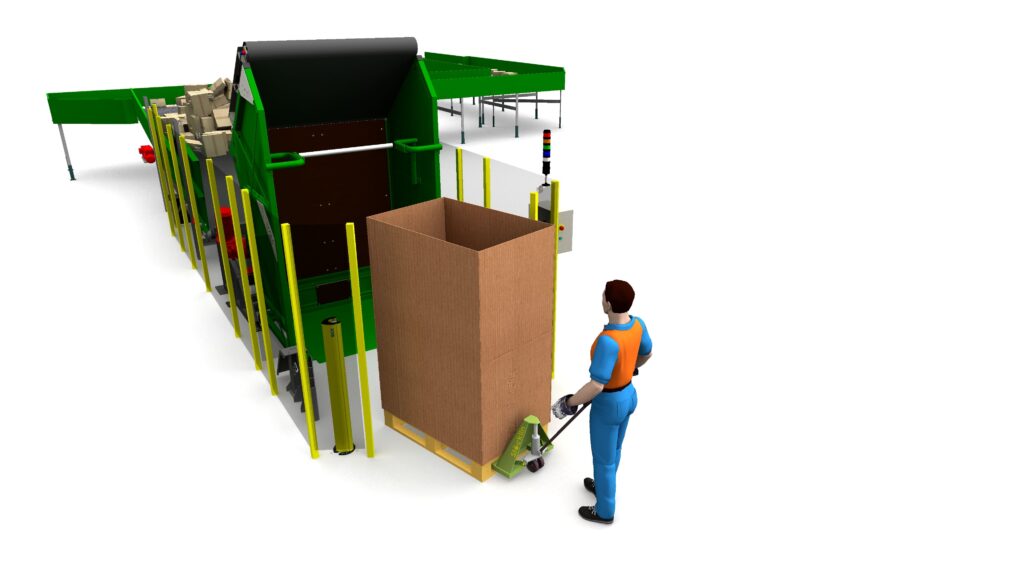 Advantages of our U-CARE C unloader
Silent
The U-care C tipper is particularly quiet, less than 70 DbA. It allows operators to work without headphones and earplugs.
Reduced retention rate
The rotation of box is adaptable in acceleration and speed, which allows a better flow of parcels. The cycle can be adapted to improve (reduce) the damage rate on packages.
Energy efficient
The U-CARE C consumes an average of 2 KW/hour, 3 times more economical than a hydraulic unloader.
Increased lifetime
Equipped with a strong and reliable geared motor, the machine wears out less quickly than a hydraulic unloader.
Low maintenance cost
Compared to a hydraulic unloader, the U-Care C requires very little maintenance (1 to 2 times per year). You do not need a hydraulic expert on site. It corresponds to a saving of more than 40%.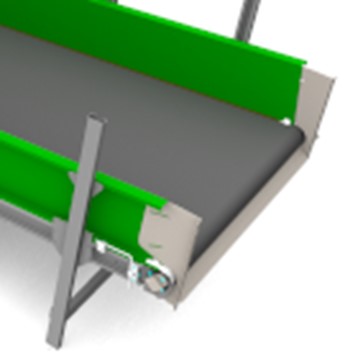 Easy to integrate
The U-Care C is completely autonomous and can operate with just the power cable. The end of the conveyor is designed for easy integration into your conveyor line.
Head conveyor
The parcels fall from a lower height and onto a soft surface.
Quick Return On Investment
The U-CARE C tilter requires only half an operator to operate. It replaces the 4 operators usually required for manual unloading. The ROI is less than a year.
U-CARE C Technical features
Specifications
Cycle of 45 to 65 seconds (excluding operator loading)
Energy : electric
Unit Load Device (ULD)
Length : 1200 mm
Width : 800, 1000, 1200 mm
Height : 2000 mm max
Loaded weight : up to 800 kg
Combined equipment and services
Reception conveyors controlled by the unloader
Peripheral protection
On site / remote / video maintenance
Remote control