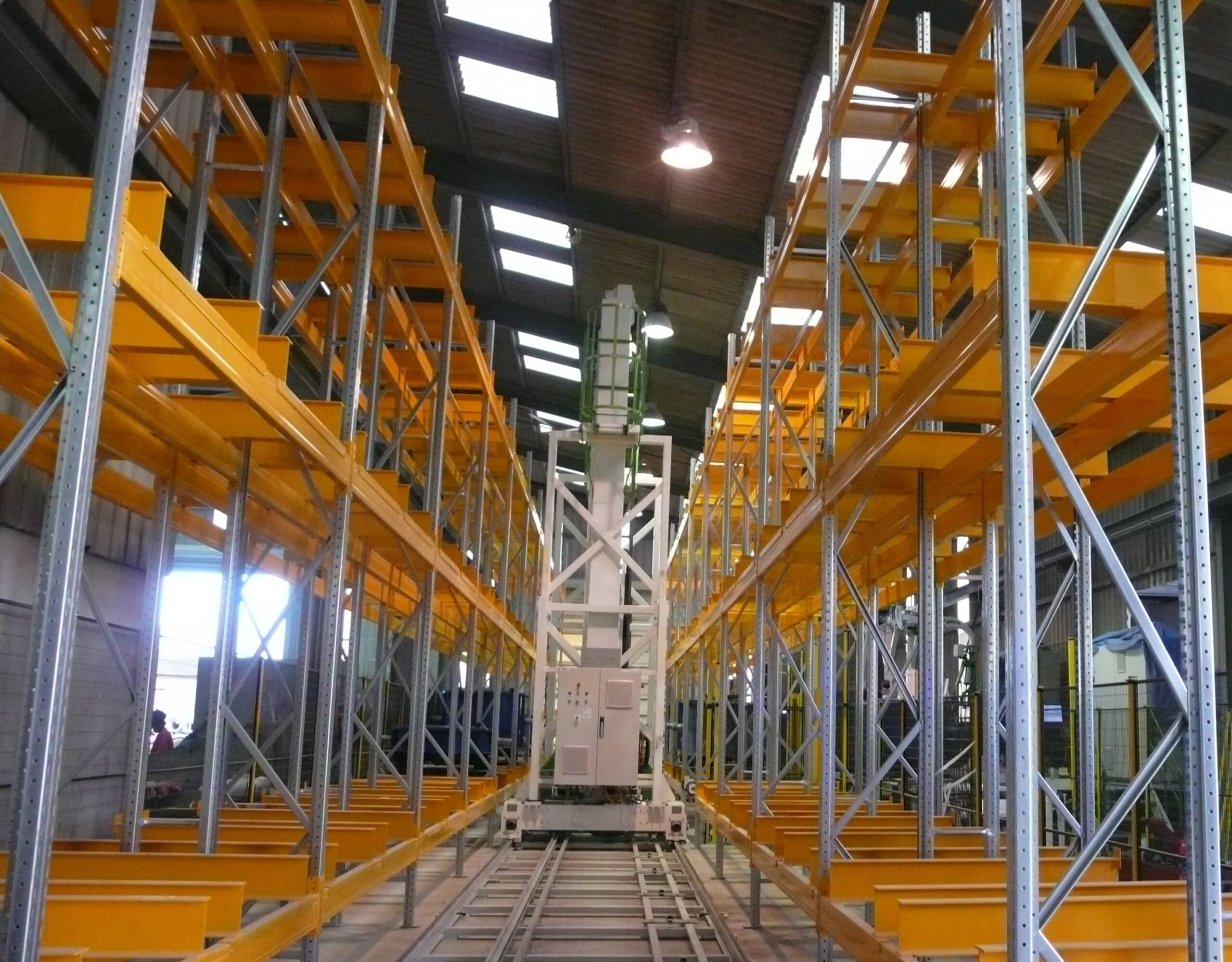 Stacker cranes
ALFI Technologies has developed a range of automated storage systems for handling bulky and heavy loads. These systems are dedicated to paper, wood, concrete, metals or even building materials industries… The handled products can be stored directly on racks or on wooden / steel pallets. Inputs and outputs can be carried out by semi-automatic or fully manual overhead crane, forklift…
The stacker crane: The best automated storage solution for your warehouse
A stacker crane is an automated high bay storage equipment. The stacker cranes designed and manufactured by the ALFI Technologies group allow you to optimize your storage and handling operations of bulky or heavy loads.
The products handled by these high-performance stacker cranes can be stored directly on racks, on pallets or in sleds in the case of long loads (purlins, boards, beams, etc.).
The group offers different types of stacker cranes. These are adapted to numerous markets (concrete, insulation, logistics, etc.) where their use allows enormous savings in time, space and productivity.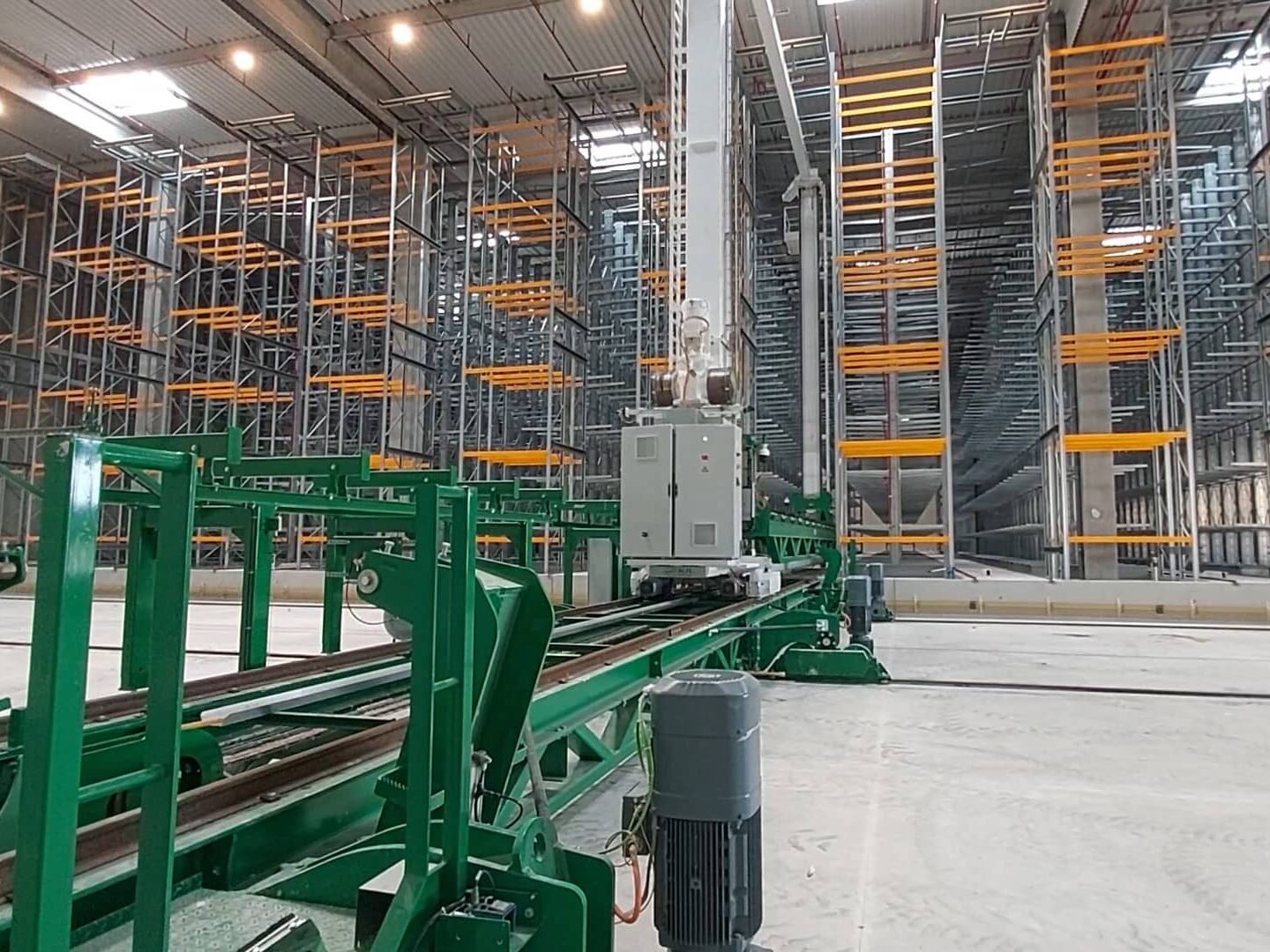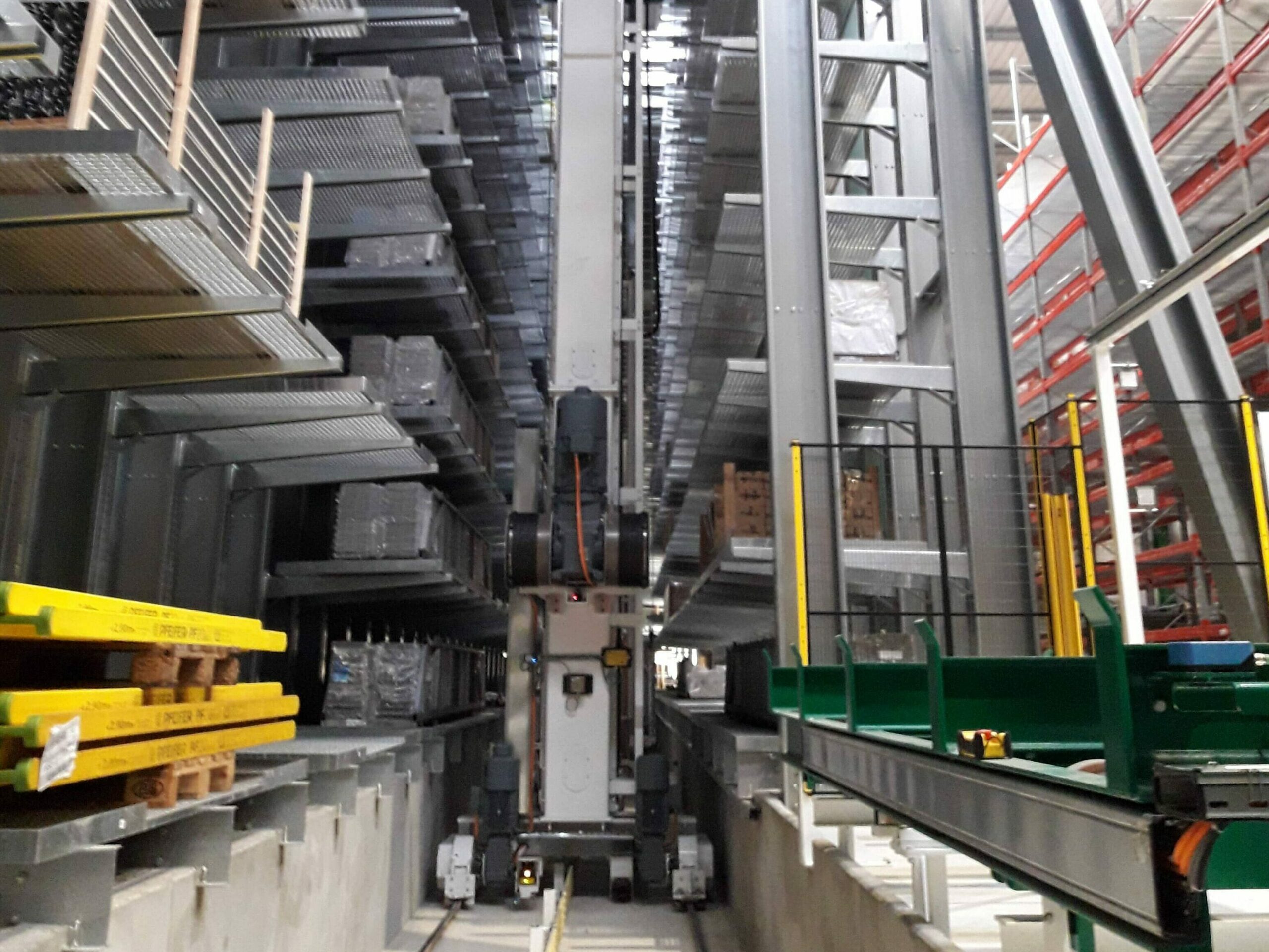 The specificities of these automated warehouses
Thanks to stacker crane equipment, products can be stored in an optimized way on light or heavy load racks, wooden or steel pallets and sleds for long loads.
Product infeed and outfeed can be done conveniently and reliably using semi-automatic or manual overhead cranes, forklifts, AGVs or other equipment.
ALFI Technologies' stacker cranes enable efficient and safe handling of products, thus improving the productivity and profitability of client companies.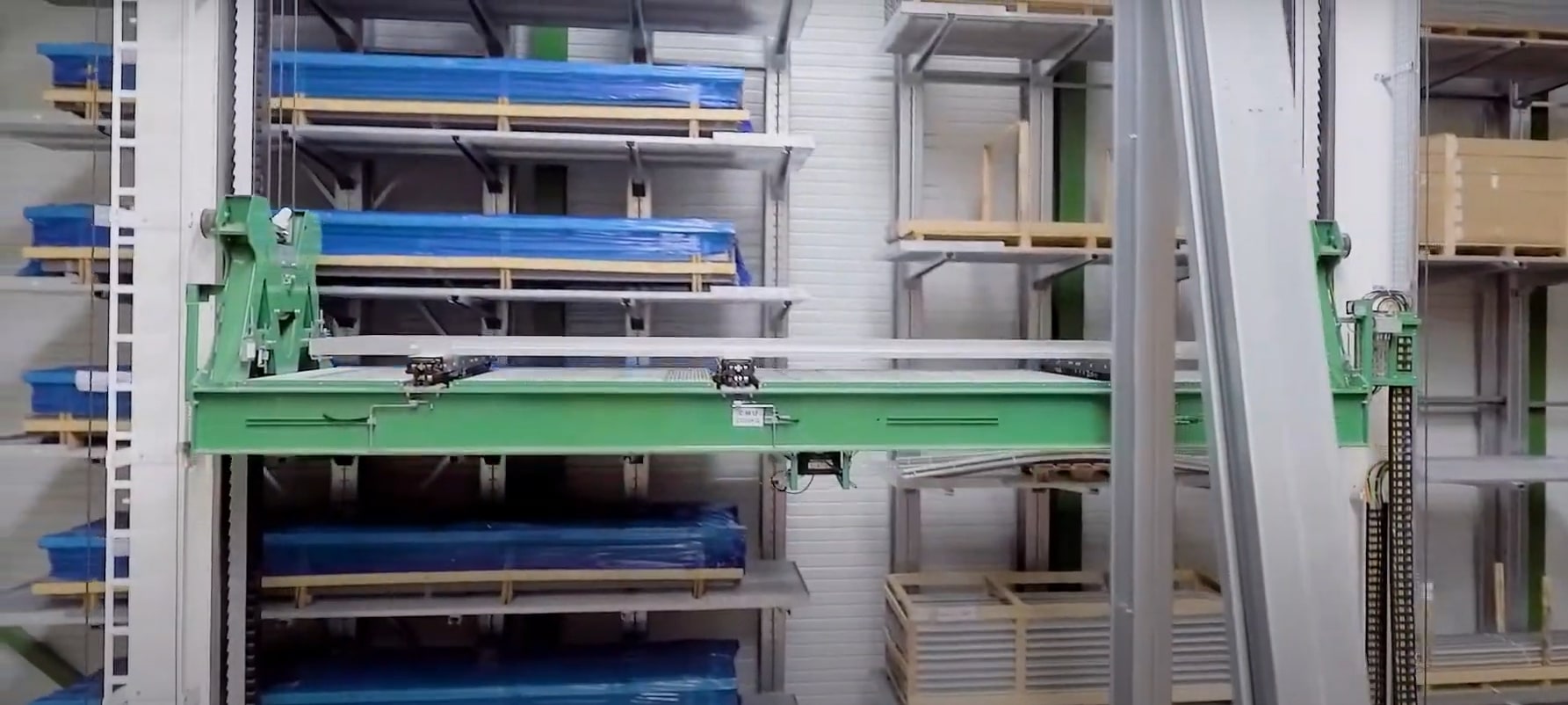 Why choose an ALFI Technologies vertical storage unit?
Automation
Increase your productivity by letting your storage system work autonomously, in hidden time.
Optimization
Storage functions in waiting times and optimization of storage operations.
Management
A solution adapted to the management of multi-reference stocks and that eliminates allocation errors thanks to the WMS integrated by ALFI.
Space saving
Between 40% and 60% footprint reduction for stackable products on two levels.
Discover our range of stacker cranes
Wood stacker crane : for long and bulky products
An automatic storage system adapted to long products, such as for example clins, purlins or beams.
Wood stacker cranes enable to :
Facilitate the storage and shipment of long products (up to 13m)
Optimize and pre-package orders
Secure your storage spaces by limiting the movement of large products
Concrete stacker crane : for molds and XXL concrete products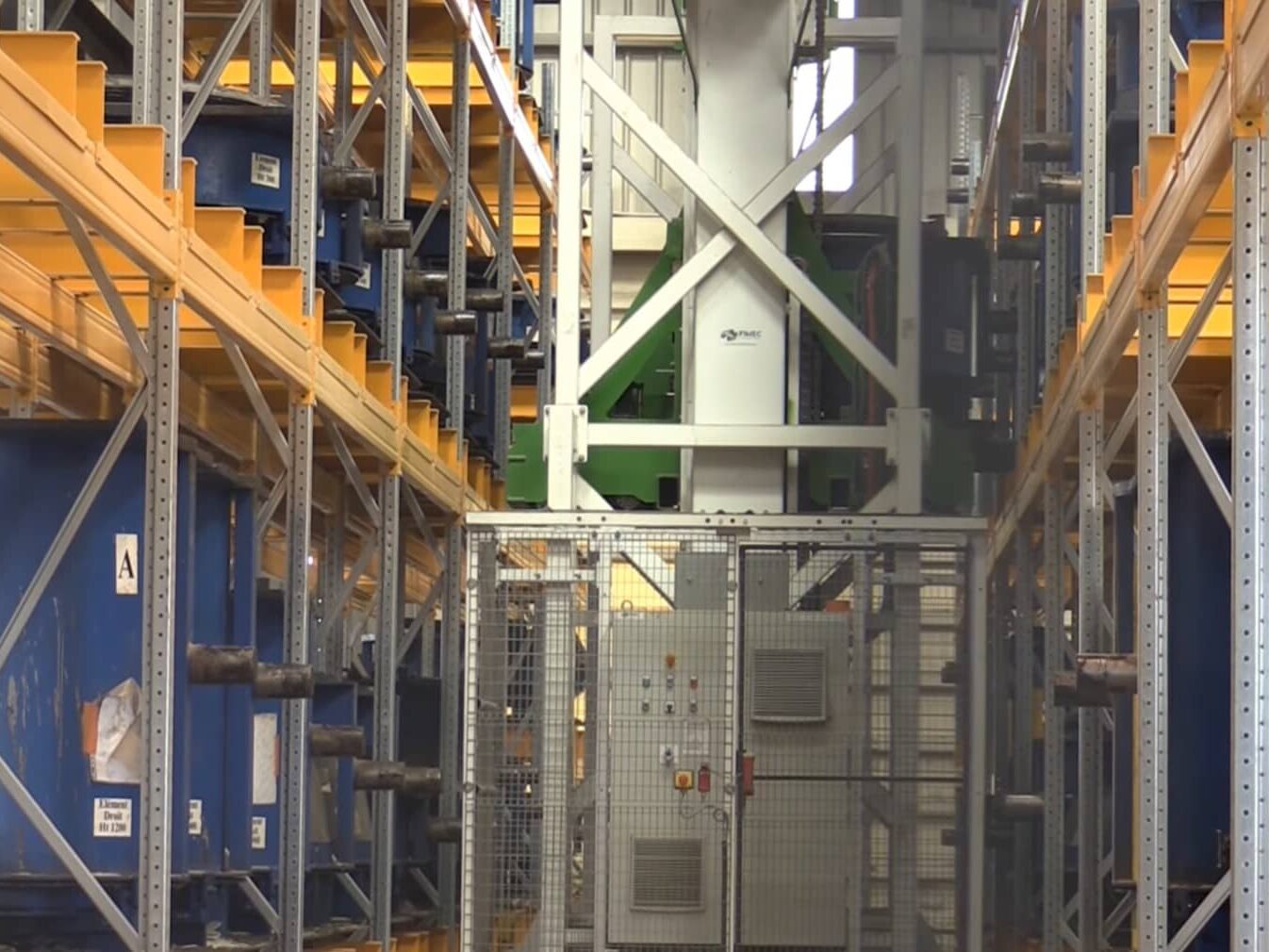 A solution designed for the automated storage of molds for precast concrete.
Concrete stacker cranes enable to :
Put the full moulds in the oven and to take them out after drying
Manage the release of stock according to production and order requirements
Maintain the horizontality of the moulds, thanks to a device that corrects the deflection due to the weight of the mould.
Handling of large concrete products (XXL) up to 3T
Logistics stacker crane : for various sized products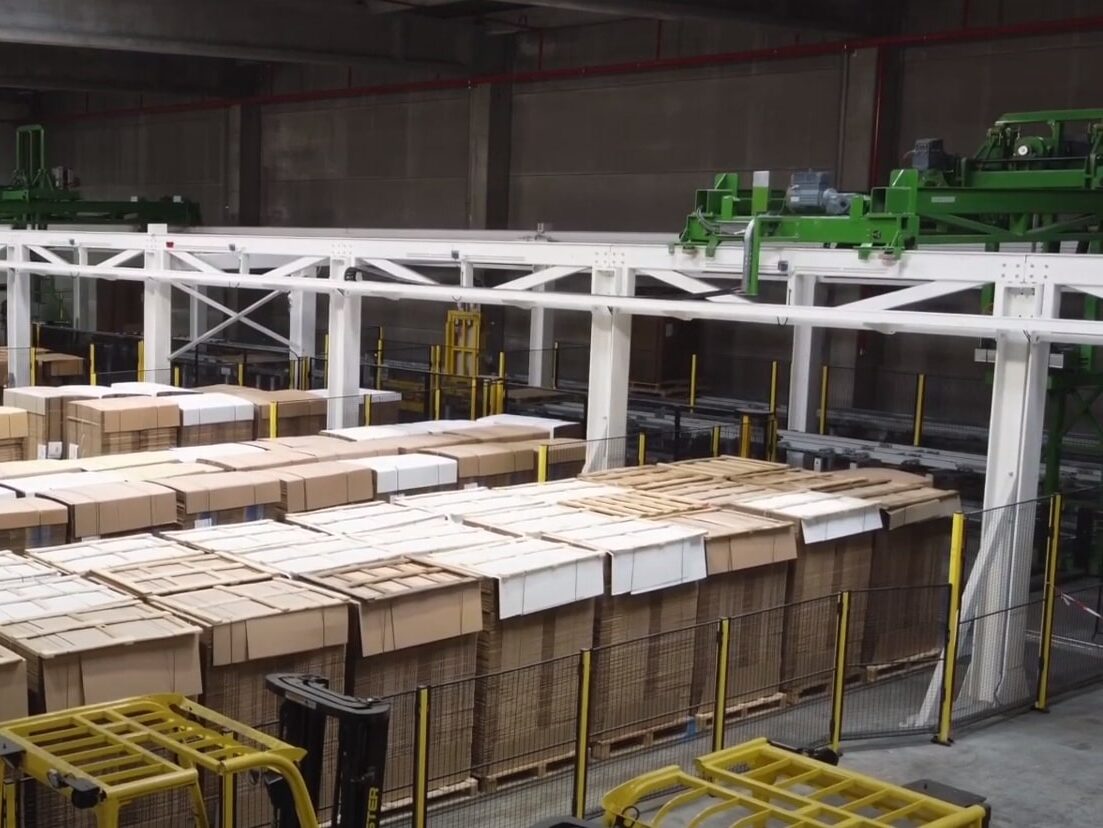 A solution for the automated storage of products in various formats, such as rolls, pallets or parcels.
Logistics stacker cranes enable to :
Store various products in the same place (incoming and outgoing products in the same place)
Secure the follow-up of the products
Reduce damages on packages
Provide products on ergonomic picking stations
Insulation stacker crane : for insulating panels and plasterboard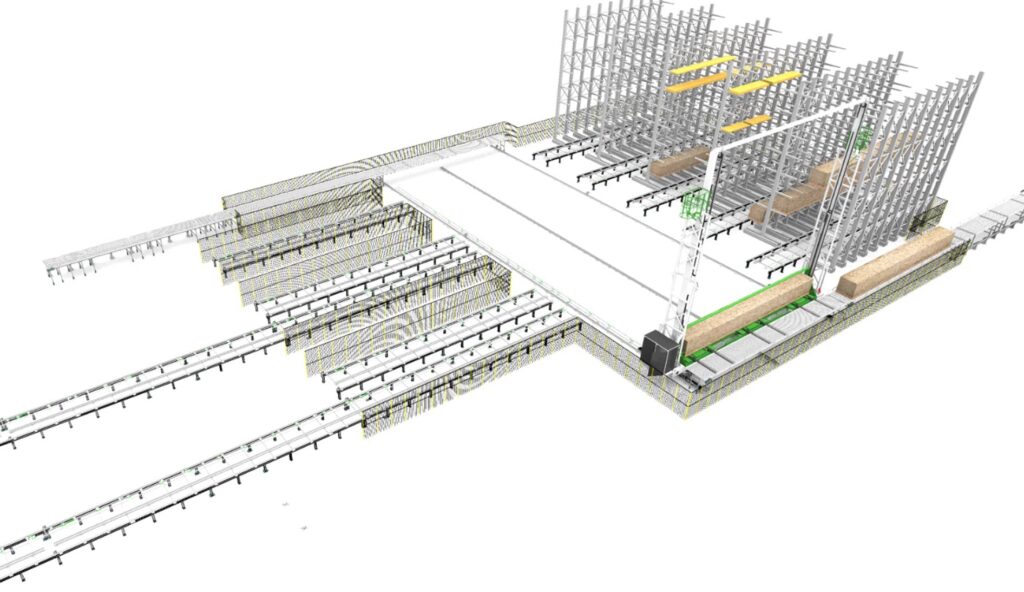 In order to meet the future logistical needs of insulating material production sites, ALFI Technologies has designed a 100% automated storage system specially dedicated to insulating boards and panels.
These stacker cranes can be placed at the end of the production line or used to manage your stocks of insulating products.
You want to optimize your storage space with our solutions?
ALFI Technologies is a leading company in the field of stacker cranes, offering reliable, economical and efficient storage solutions for customers. With a range of high quality equipment and exceptional customer service, the ALFI Technologies group helps you optimize your storage space while guaranteeing the safety of your products. Our machines are designed to meet your specific needs, maximizing the use of your warehouse space and minimizing your costs.