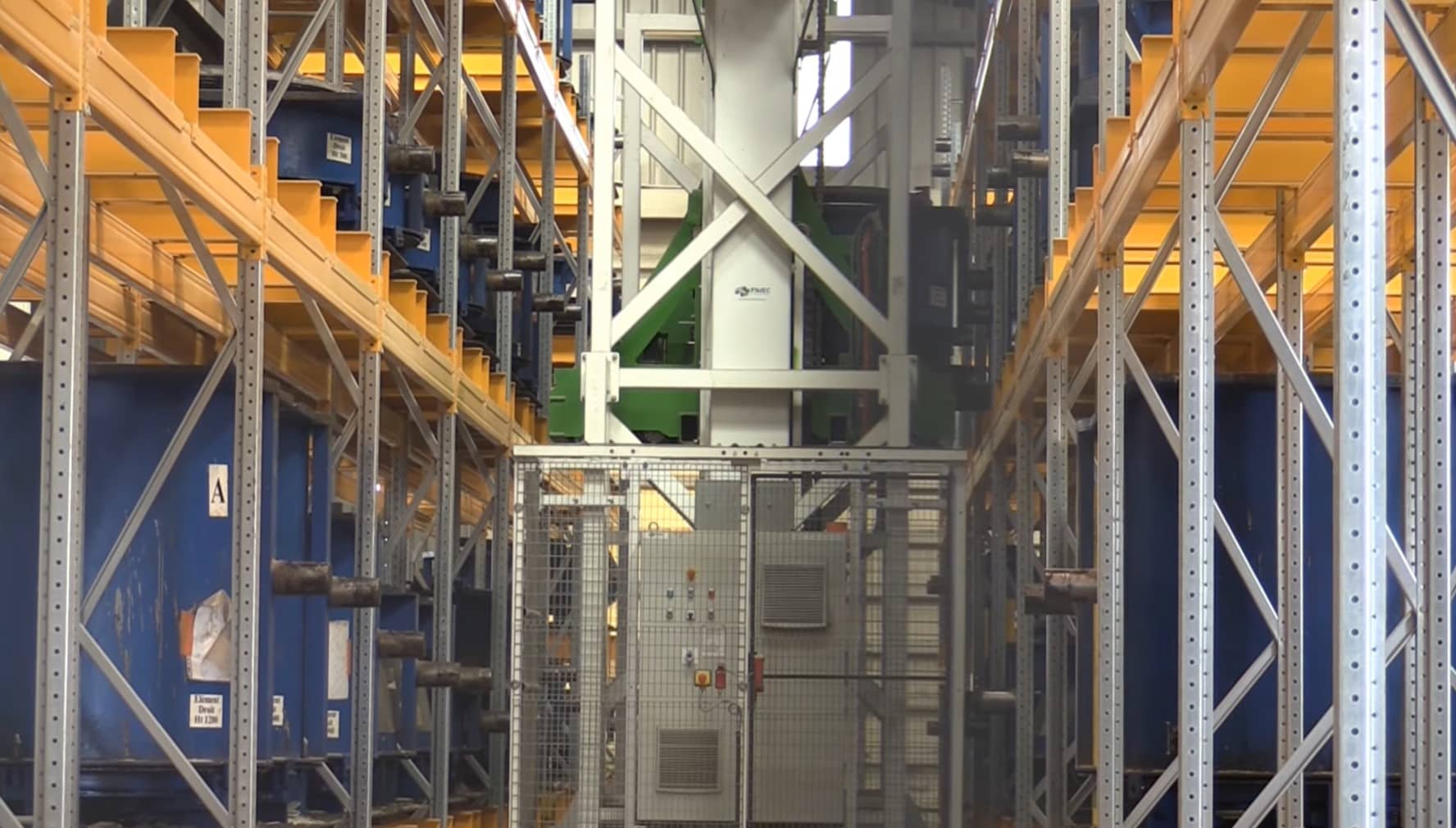 Stacker crane for concrete molds
Carousel-transstacker line for XXL productions
This type of production line offers exceptional performance in terms of ergonomics, safety, consistent quality of finished products and productivity. The excellent ergonomics of the line and the automation of the most arduous operations ensure ease of use and increased safety.
Dedicated to the production of heavy and large XXL elements, this comprehensive line performs several functions: robotized cleaning and oiling of molds, accessories insertions (reservations), semi-automatic concreting by concrete pump, molds storage in racks, automated demolding, programmable reversal of product, automated palletizing (stacking possible) and pallet out-feed.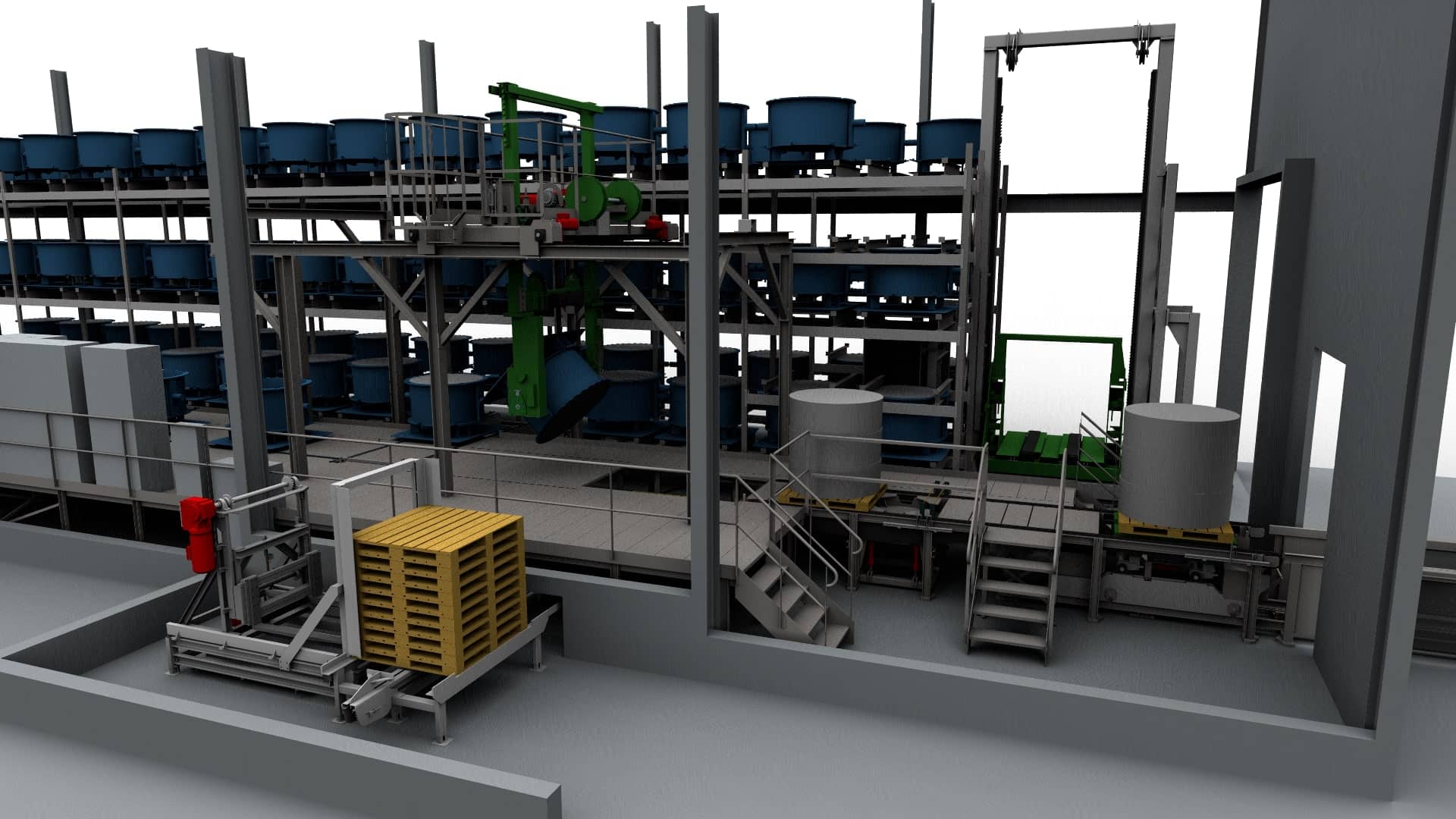 Modularity and flexibility
Production changes are easy and allow the production of small series with a great reactivity. Storage on racks is
modular: the length of the racks can be easily increased for a greater production capacity, without modifying the carousel itself.
The concrete molds stacker crane saves floor space and limits the building's civil engineering costs. This equipment is also perfectly adapted to large products (XXL) and heavy loads (up to 3 T).
Automated concrete products manufacturing
The production lines of the carousel-transstacker type are developed for the manufacture of a wide variety of products: manholes and manhole bottoms, reduction heads, well nozzles, casings, pipes and accessories, rainwater boxes, containers…
These solutions are suitable for products with complex shapes, thanks to innovative custom-made molds that allow the addition of numerous elements, such as joints or rungs, for example, without manual intervention.
Equipment of our automated storage solution for concrete
Conveyor
Station for cleaning, oiling, fitting of accessories and filling of the moulds. This station can be automated, particularly for the fitting of accessories which can be done by the gripper, eliminating painful handling for operators.
Stacker crane for concrete molds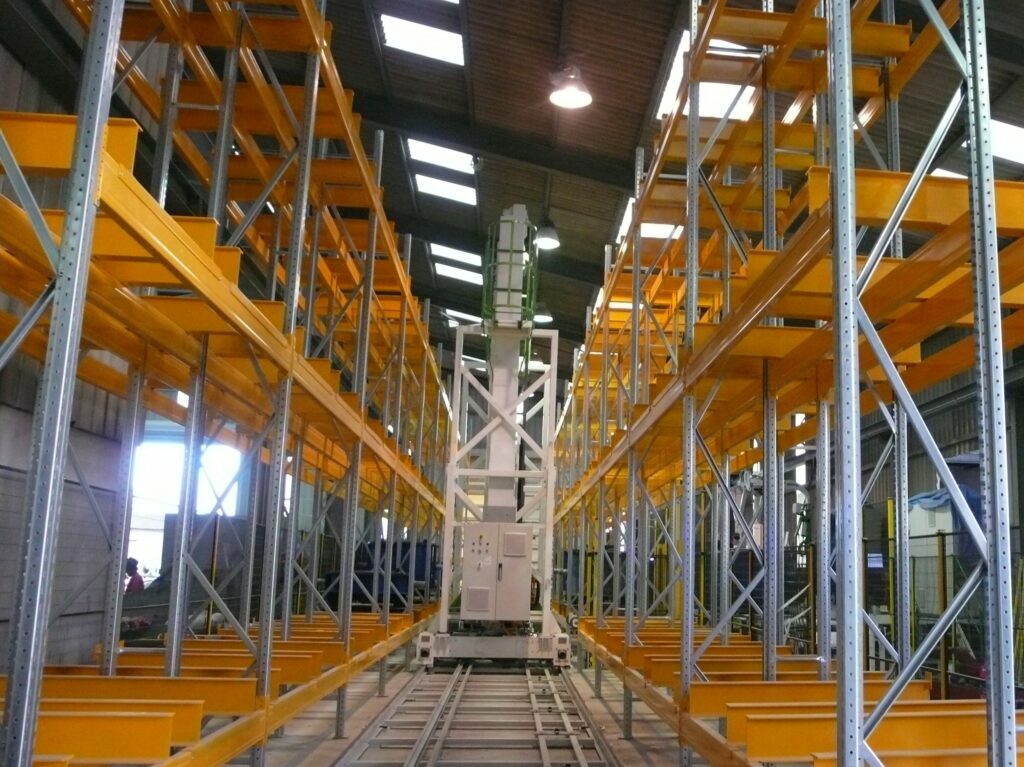 The stacker crane places the full molds in the oven and takes them out after drying. It is equipped with a device that corrects the unbalancing due to the weight of the mold and guarantees its horizontality to avoid any overflowing or dripping. A specific movement also limits these overflows.
Storage warehouse
Moulds filled with concrete are stored for drying in modular racks. The length of the racks can be easily adapted and the capacity increased, without modifying the carousel.
Demoulding gantry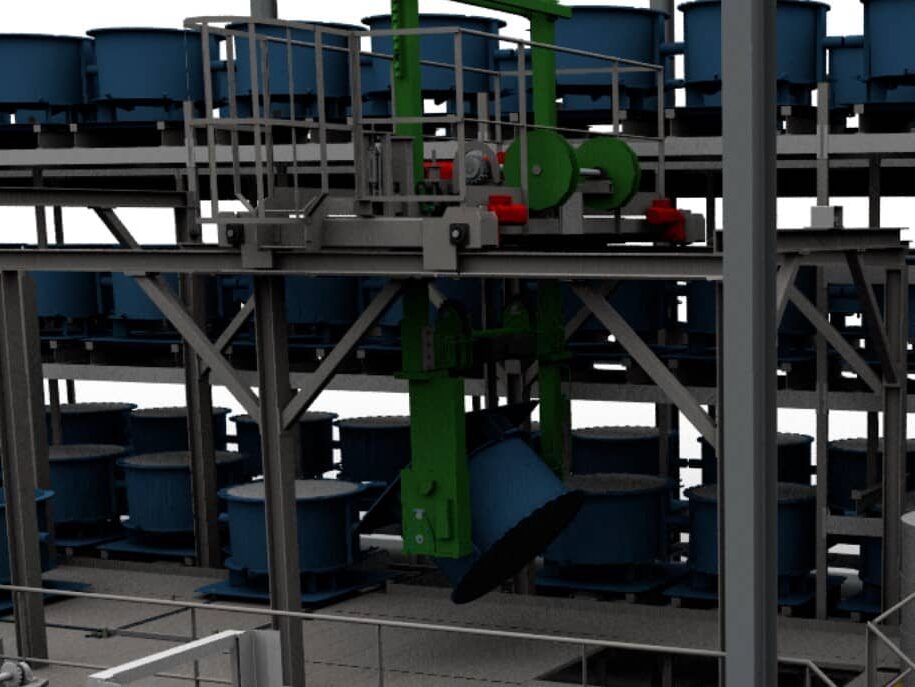 The gantry is adapted to heavy loads (up to 3T) for a demolding by turning over, without any shocks. The product is demolded on a pallet.
Automated pallet dispenser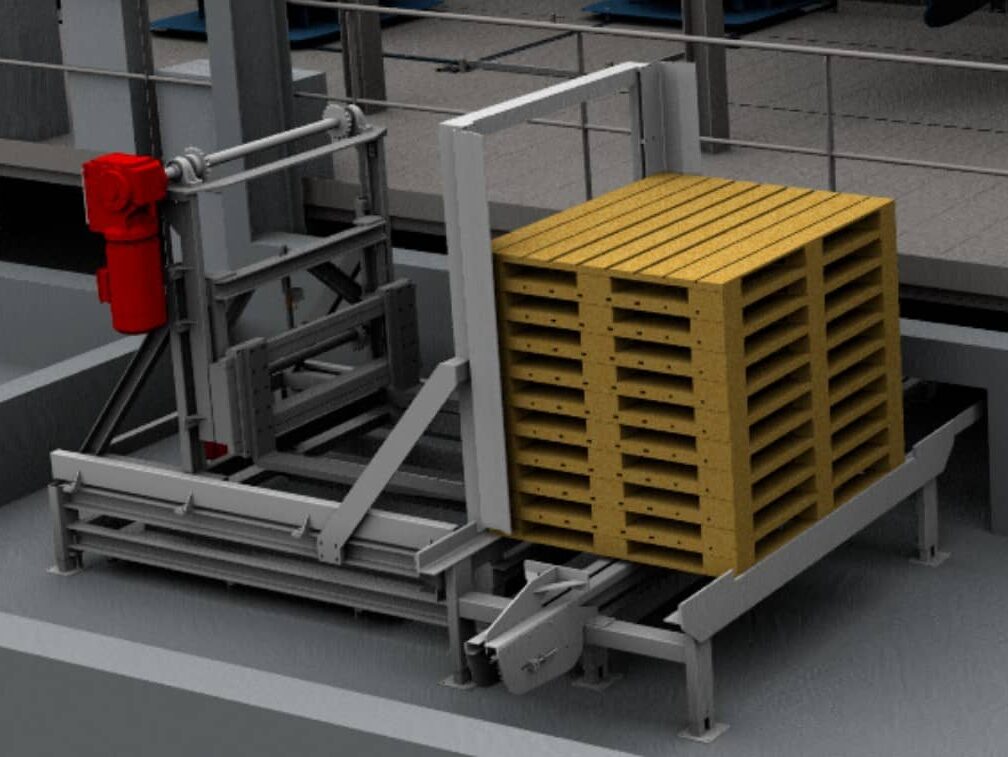 Positioning of storage pallets for stacking
Stacking table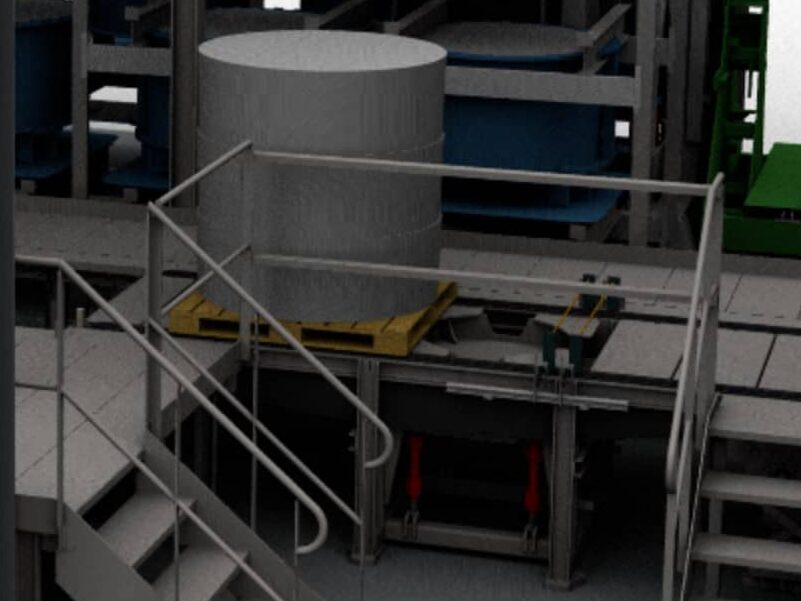 Stacking of finished products on storage pallets.
Product output shuttle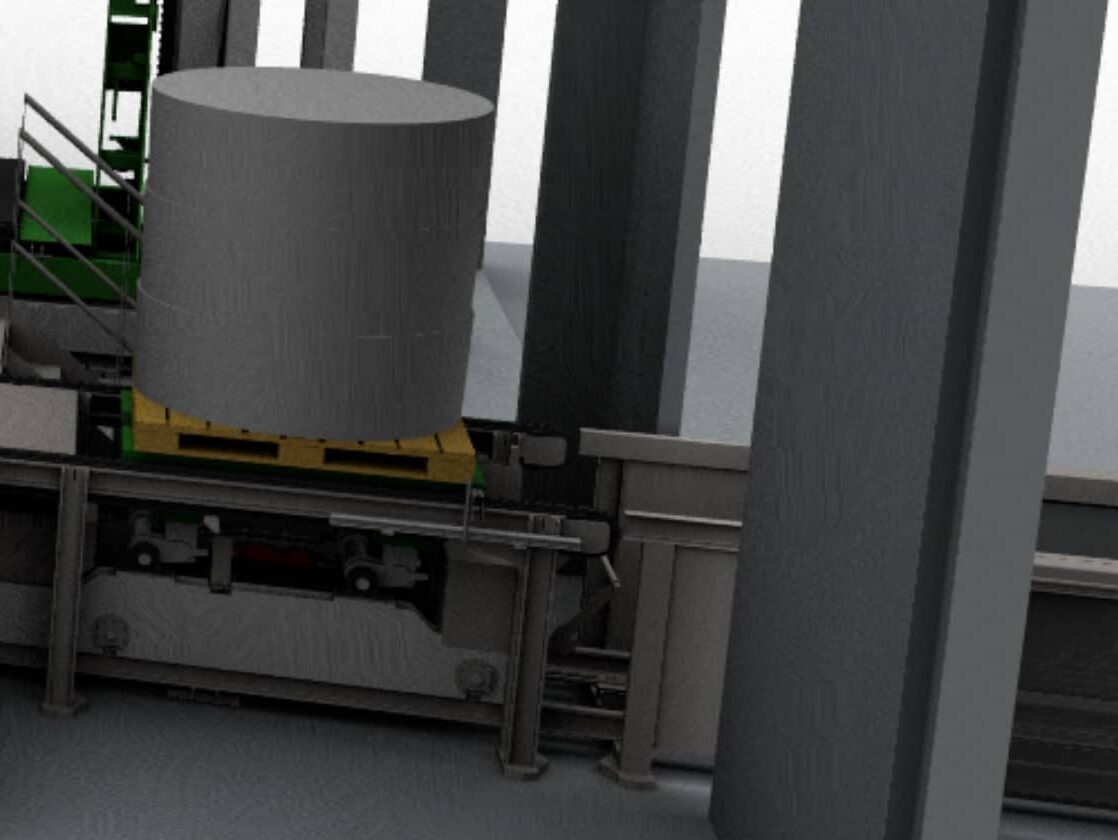 Finished products are conveyed and accumulated outside by the shuttle while waiting to be evacuated by a forklift operator