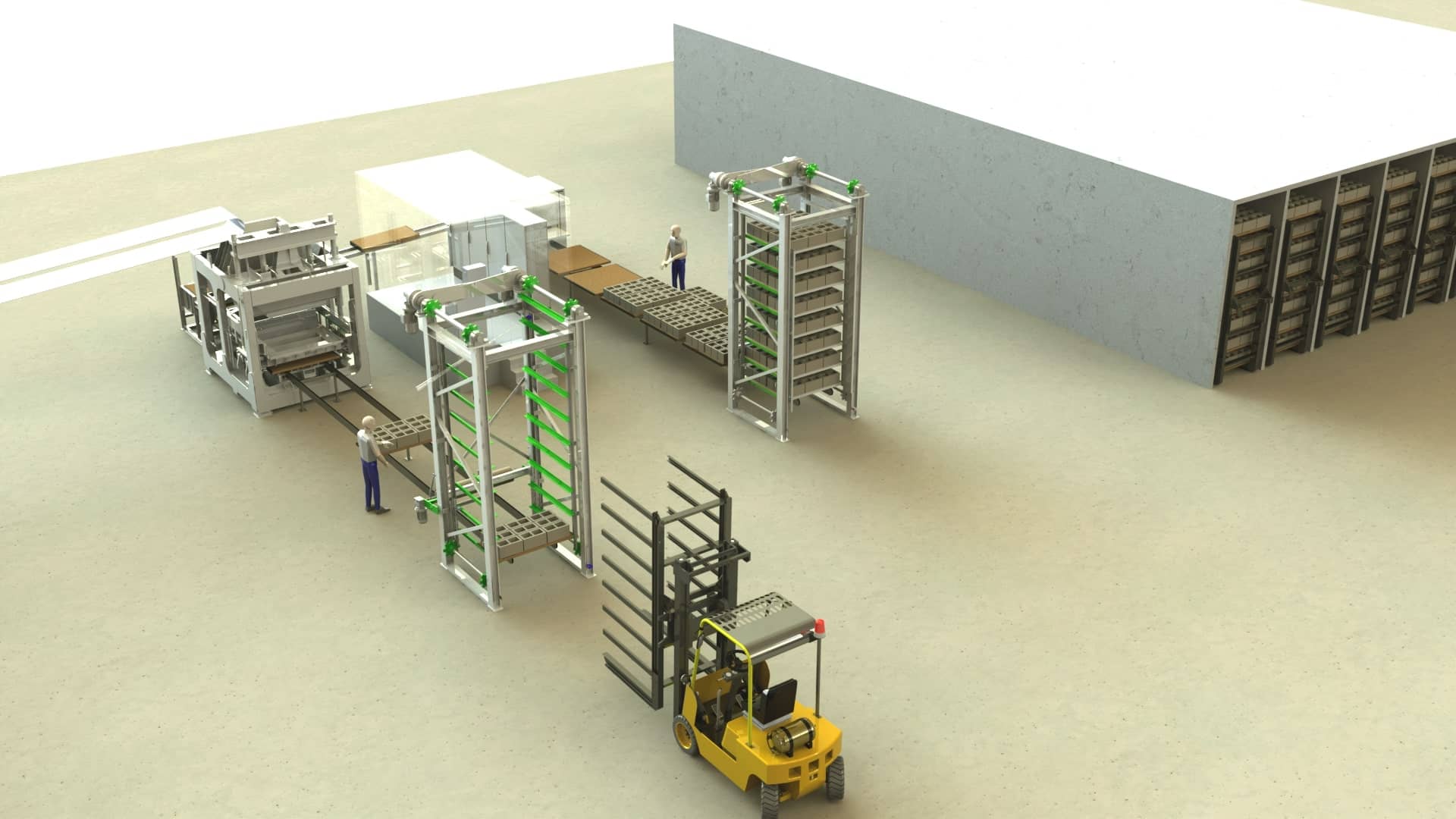 Concrete production line : Easy Access
This range meets the demands of customers wanting to produce with lower production capacity requirements, relying on semi-automatic or fully automated handling (according to the block making machine type), while benefiting from easy operation and maintenance.
Easy Access production line with block making machine
By developing the Easy Access range, ALFI Technologies has endeavored to define a range that makes the production of concrete materials accessible to all its customers, regardless of their geographical location and the amount they wish to invest.
These concrete production solutions remain flexible and scalable (handling automation, automatic or robotized palletization, etc.) to support their development.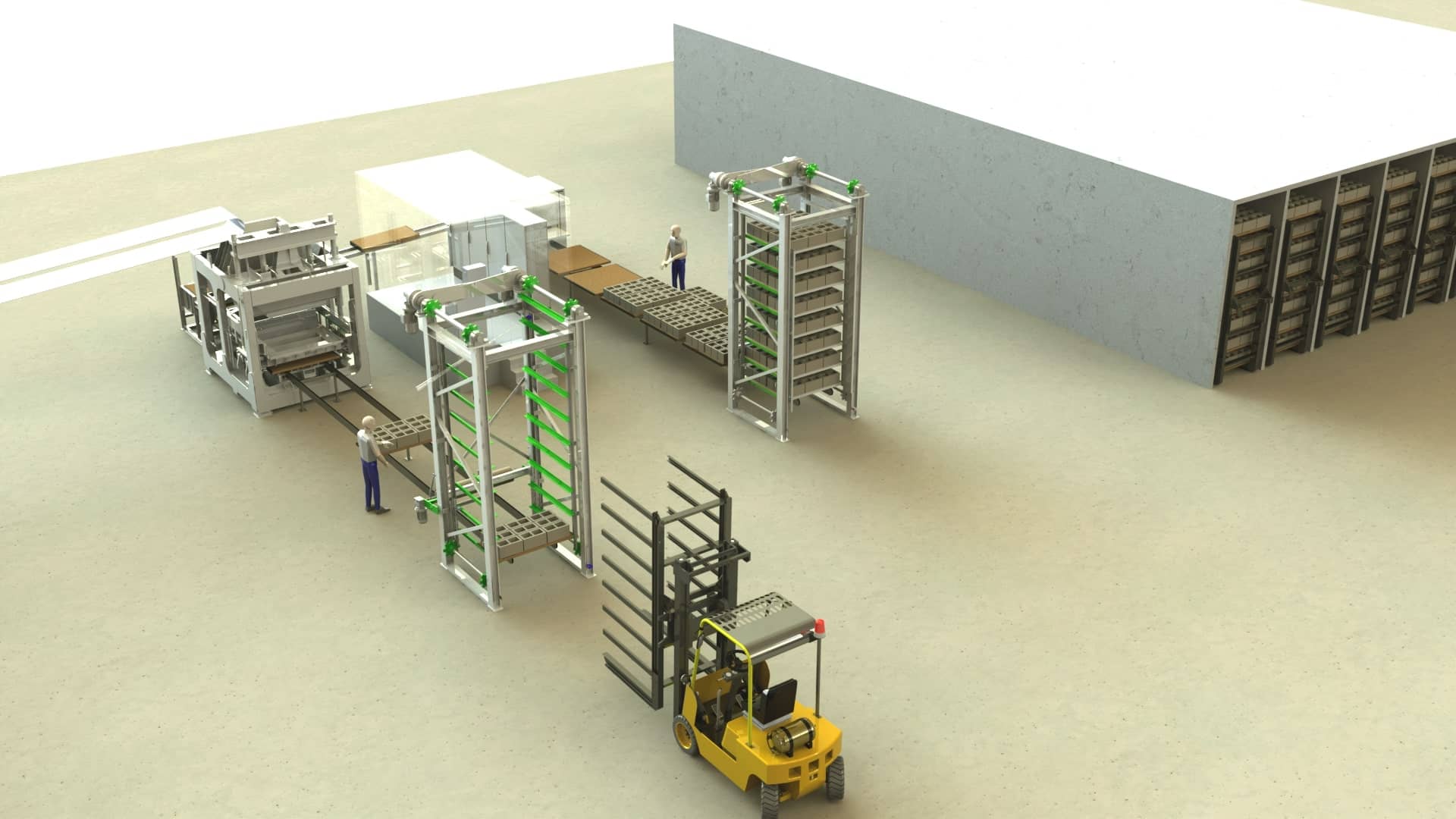 Equipment of the Easy Access line
Blocks making machine and molds
The Easy Access vibrating presses range is adapted for the production of a wide range of products (blocks, pavers, curbs …):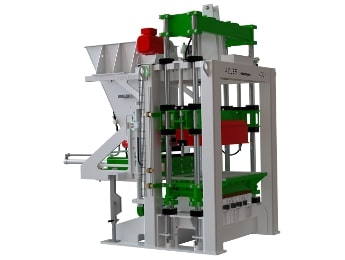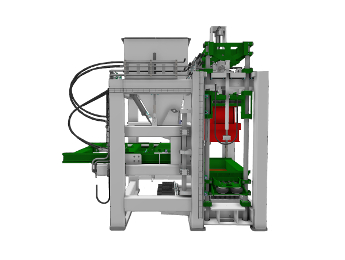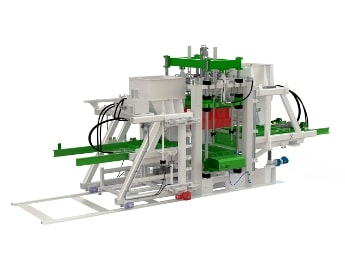 These high performance vibratory presses were designed to :
Be simple to use
Guarantee an easy maintenance
Ensure a rapid increase in production
Work in the most severe conditions
ALFI Technologies realizes any type of molds (CS Moules range), adapted for Easy Access and Advanced ranges but also presses of all brands for the production of standard and special blocks, rectified blocks, slabs, paving, curbs, decorative products, etc …
Conveyor and handling
ALFI Technologies offers robust, high-performance, scalable and versatile solutions for handling fresh and dried products: conveyors, elevators, descenders …
The degree of automation of these handling solutions may change depending on production needs, capacity increase requirements and investment capacity. Such handling may be supplemented by transfer cars, palletizing gribs or robots…
Elevator
Racks and curing area
Products are stored on racks before being placed in the curing chambers.
In the case of favorable weather conditions, curing rooms can be replaced by roofed a zone for drying.
Lowerator
Conveyor and palletizing
Palletizing, manual on this installation plan, can be automated and robotized and can include paquetizing possibility (for transport witout pallet).
Line control