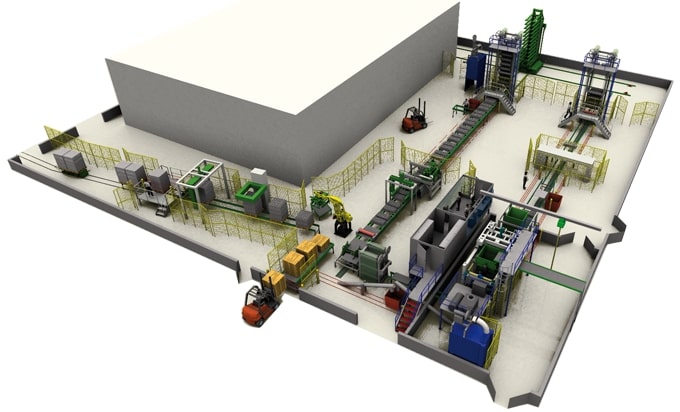 Concrete production line : Advanced
The Advanced range proposes block making machines and automated equipments that were developped to meet high quality and productivity requirements and use last ALFI Technologies' innovations…
Advanced production line with block making machine
Listening to your requirements and needs, we developed solutions combining ease of use, safety, ergonomics and innovations to help you get the best performance.
The ADVANCED range represents the best of the concrete industry. ALFI Technologies puts at your service the historical know-how of ADLER to offer an optimized and modern concrete production line.
ALFI Technologies offers complete and versatile lines for the production of a wide range of products (blocks, pavers, kerbs…). The heart of these lines: single ou double rows ADLER block making machines with their semi or full automatic handling lines, automatic or robotised palletizing…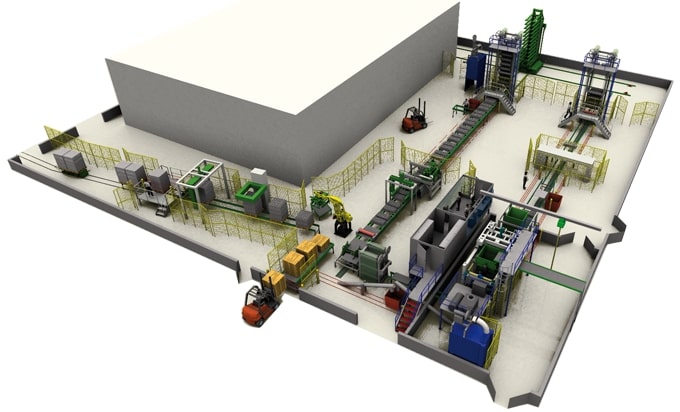 Equipment of the Advanced production line
Concrete batching plants and mixers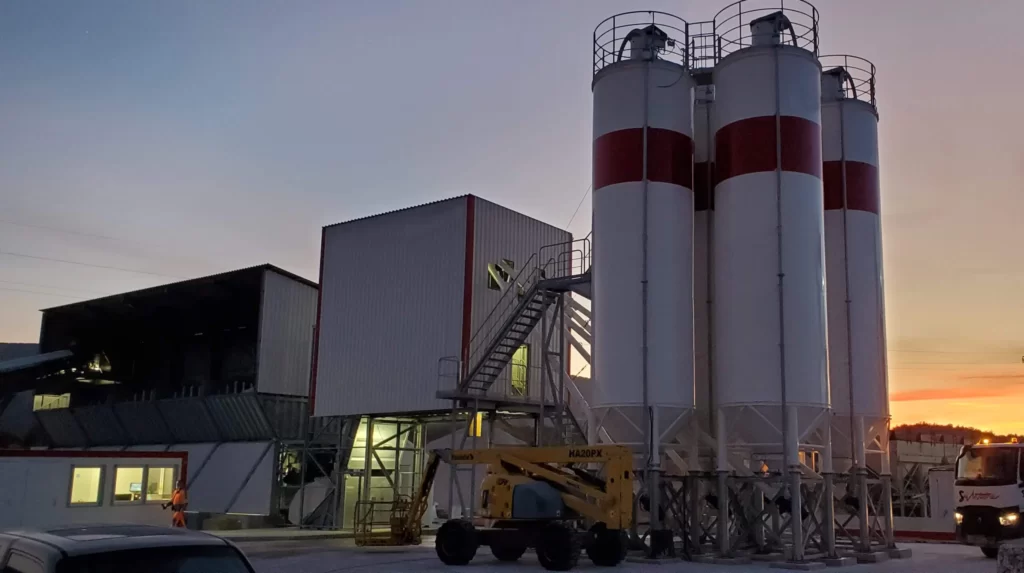 ALFI Technologies offers horizontal, semi-vertical or vertical concrete batching plants that demonstrate a capacity of 10 to 60 m3 / hour. The raw material managment is optimized for 40 to 700 ton storage of aggregates and a silo capacity of 30 to 100 tons, according to specifications.
Automation solutions dedicated to concrete batching plants help you to optimize production: weight or volumetric managment, continuous raw materials control, hygrometry managment…
Vibrating block making machines for concrete building materials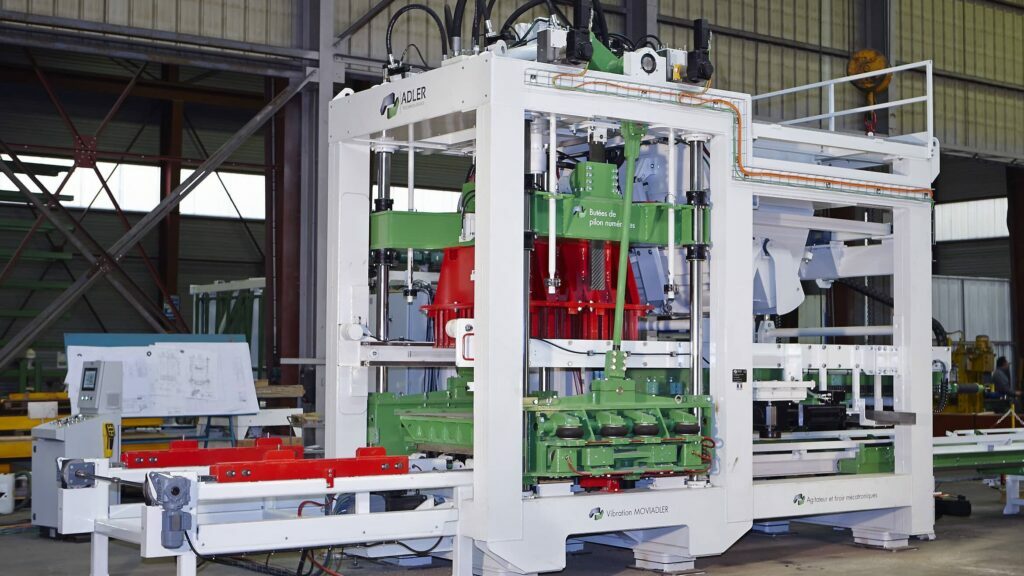 Single or double block making machines of the Advanced range, enable a reliability in products quality and consistency and offer unequalled performances in productivity and operating costs. They provide a great flexibility by limiting or removing, depending on the type of press, manual intervention.
Actual production tools, they provide multi-purpose production of a wide range of products (hollow and solid blocks, pavers, kerbs…) and are simple and ergonomic.
High performance molds for concrete materials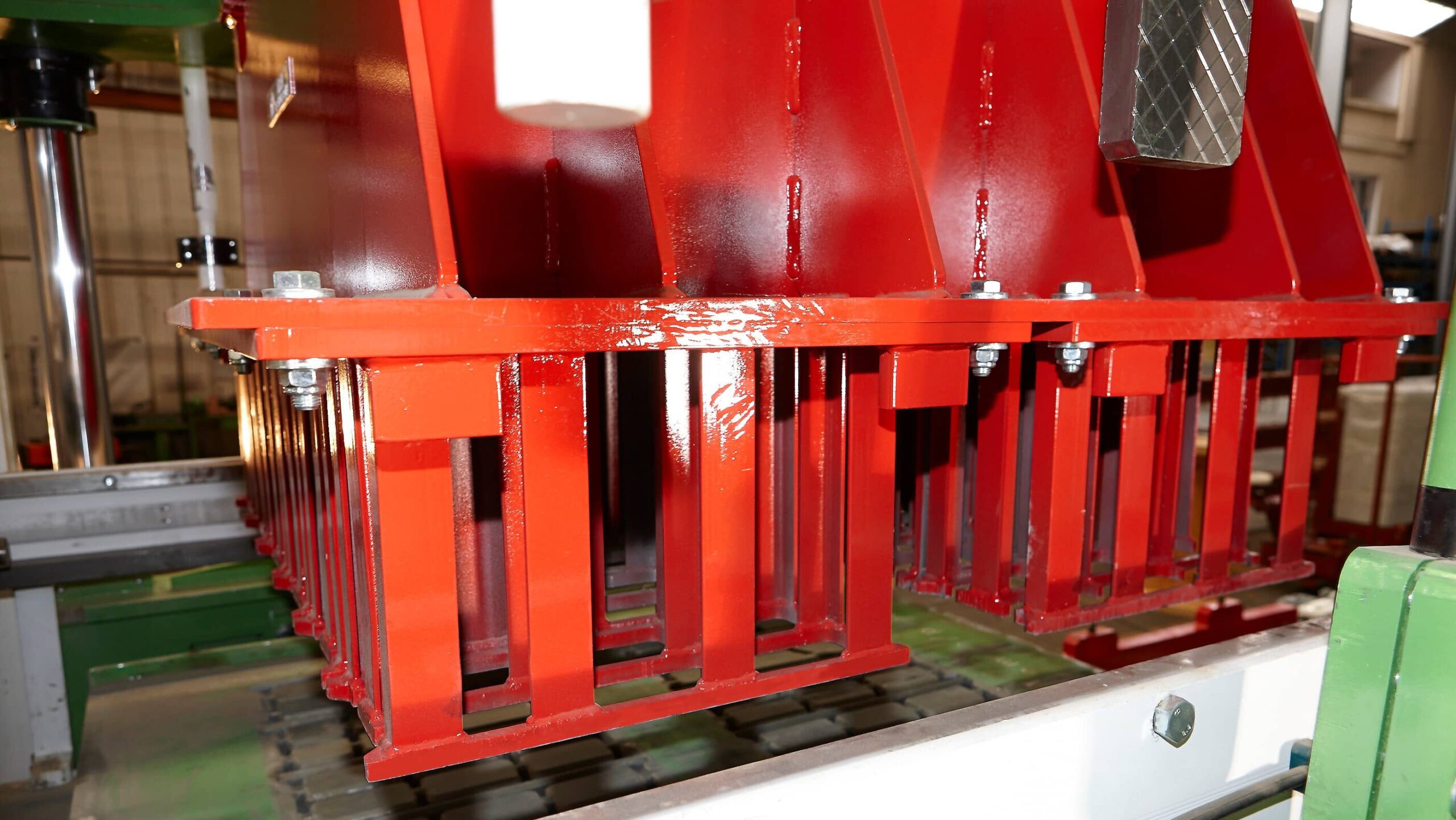 ALFI Technologies produces all types of moulds, from very simple to very sophisticated ones, for all types of machines: standard or specialised blocks, calibrated blocks, flooring blocks, pavers, kerbs, decorative products, etc. ALFI Technologies comprises the brands Demler, Pierre & Bertrand, Balbinot, Minato, Sodeem and Brouiller. The company ensures the longevity of all its installations and deliver moulds that fit their specifications.
Washing equipment concrete products
Products washing equipment Dedicated to pavers and kerbstones, washing equipment enables multiple possibilities of product finish and aspect by highlighting the aggregates used.
Handling lines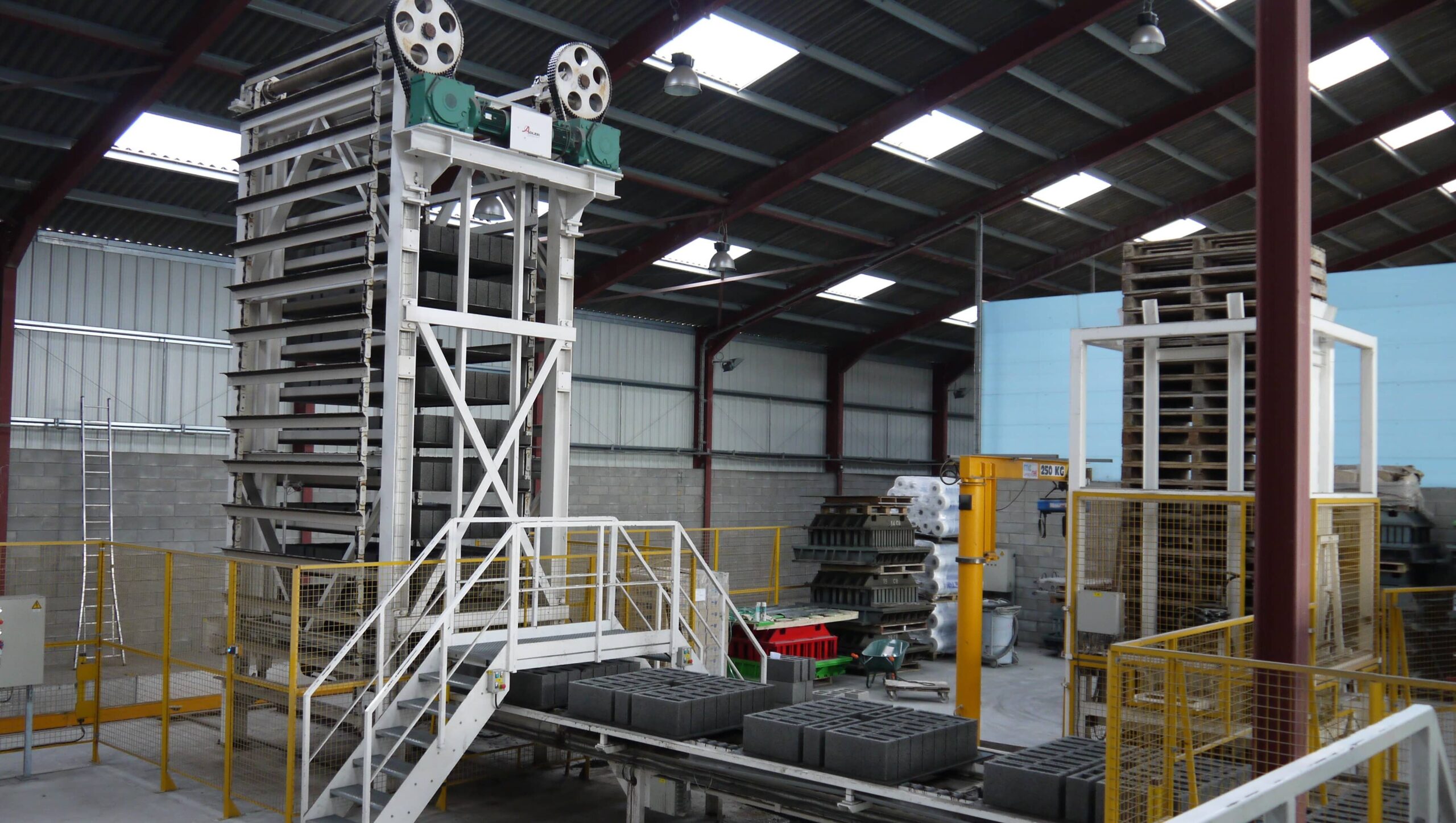 ALFI Technologies offers versatile and efficient solutions to automate your handling: solutions dedicated to fresh and dry concrete product line (conveyors, transfer cars, elevators, lowerators…), set of palletizing solutions based on gribs or robots, full range of pallet evacuation line (warehouse, mono-pallet or multipallet trolleys, roller or slate conveyors)…
Rectification and calibration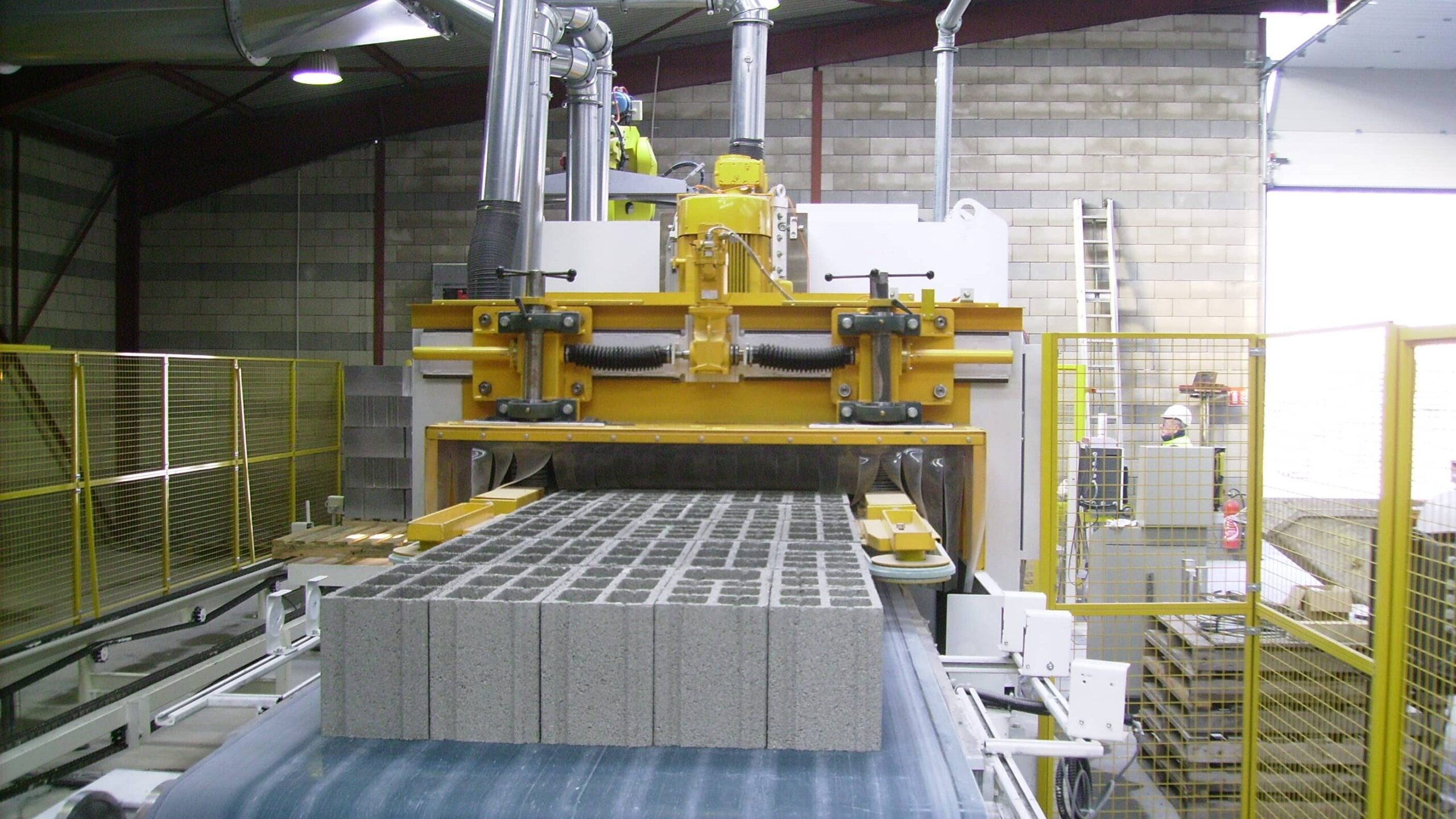 ALFI Technologies creates calibration line by machining of one or both sides of blocks to reduce the manufacturing tolerance; allows adhesive block sealing. Different kinds of calibration lines are available: online independent calibration, after curing parallel calibration line, and after curing calibration line parallel to unloader, and after calibration line on pallets and loader.
Buildings and curing chambers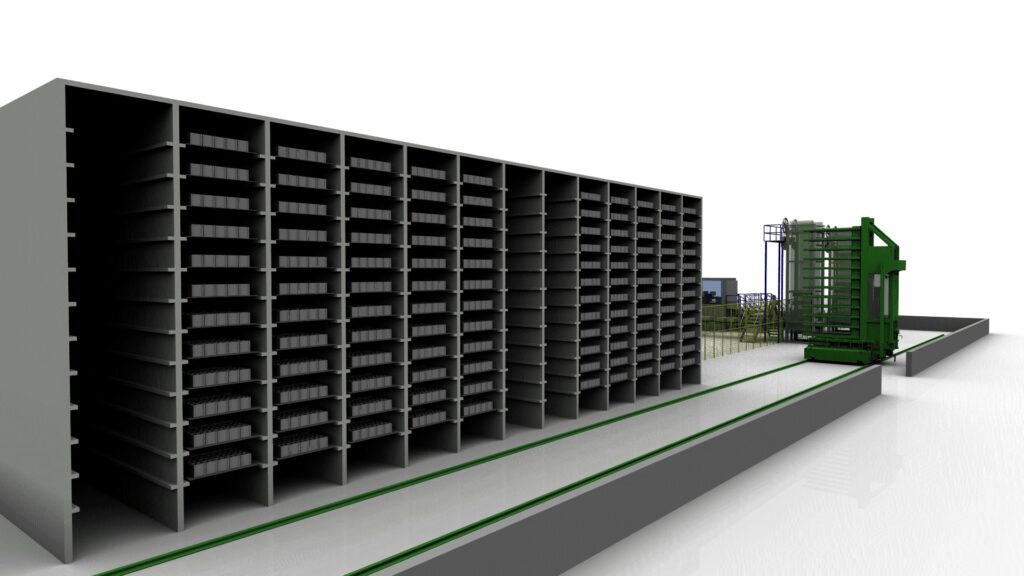 Building, with or without cladding, adapted to your production site, including the machine hall and the whole block of ovens.
Automation and production management
ALFI Technologies offers comprehensive solutions for precast production unit automation, under the ADLER Smart suite. The entire cycle of operation, from storage of aggregates to end products, is controlled by PLC (Programmable Logic Controller) in a simple and friendly way.
ALFI Technologies Automation Division specializes in automation of metering and mixing processes: drawing on proven expertise in automation, computing and metrology, it has developed automation solutions for ready mix concrete batching plants. From the control and selection of raw materials to delivery tracking, they ensure production and management optimization:
Formulations memorization
Hygrometry management
Management of weighing, load or volumetric
Continuous inventory management
Planning and vehicle tracking by GPS