ALFI Technologies is participating in the BATIMATEC 2017 exhibition from April 23 to 27, 2017, at the SAFEX Exhibition Center at the Pins Maritimes, Algiers. The group will present its solutions for the manufacture of concrete and clay building materials. Numerous references in Algeria testify to its know-how.
Come and meet us on the French booth – HAll A3. Stand AS 36 & 37

For concrete materials
Solutions for high-speed production
Blocks, slabs, pavers, curbs,
Environmental products, such as manholes and manhole bottoms, reduction heads, well nozzles, casings, pipes and accessories, rainwater boxes, containers, selective sorting tanks…
Moulds for block making machines and special moulds for prefabrication,
Ready-mixed concrete (automation and supervision of ready-mixed concrete plants and intelligent delivery tracking).
ALFI Technologies presents its new range of ADLER vibratory presses
For the manufacture of concrete blocks, pavers and curbs. This range integrates new developments to be discovered!
Heavy-duty, scalable chassis,
Patented Moviadler vibration system,
Filling of the mould by mechatronic agitator,
User-friendly and intuitive automation.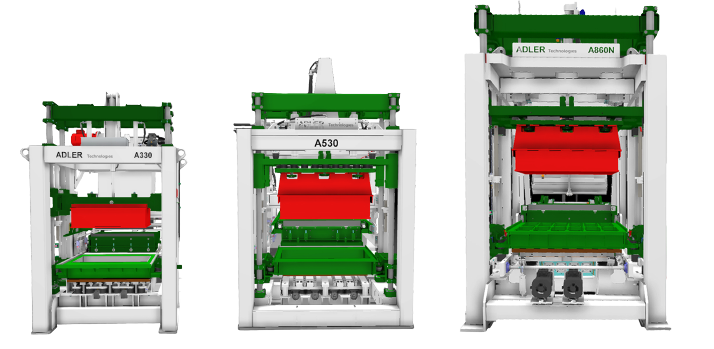 Automated carousel for the production of concrete environmental products
This line dedicated to the manufacture of sanitation, urban planning or large structure products is organized in a carousel for greater efficiency.
It offers exceptional performance in terms of ergonomics, safety, consistent quality of finished products and productivity.
An "All in one" operation,
Automation of the most tedious operations,
Unique modularity and flexibility
High speeds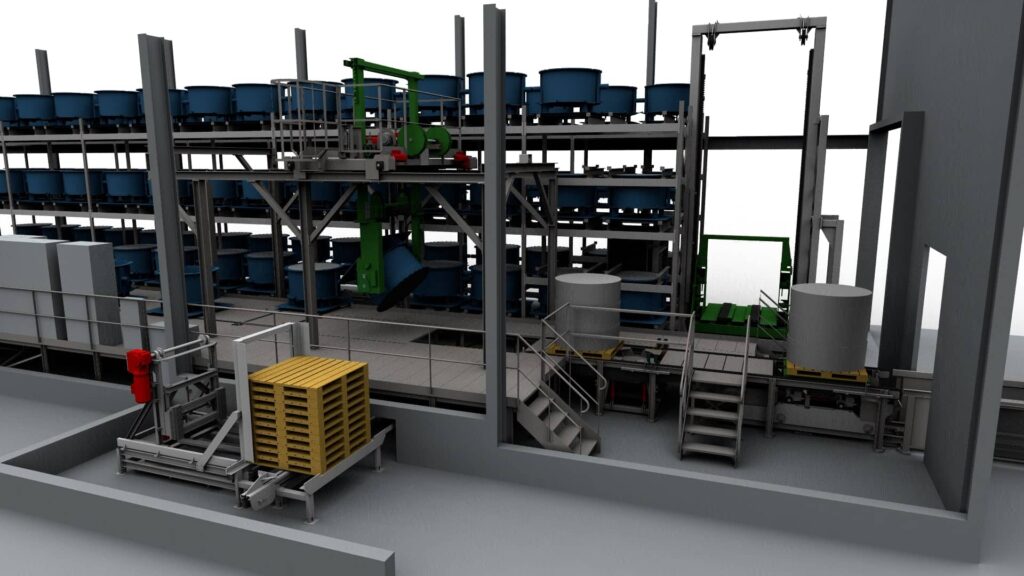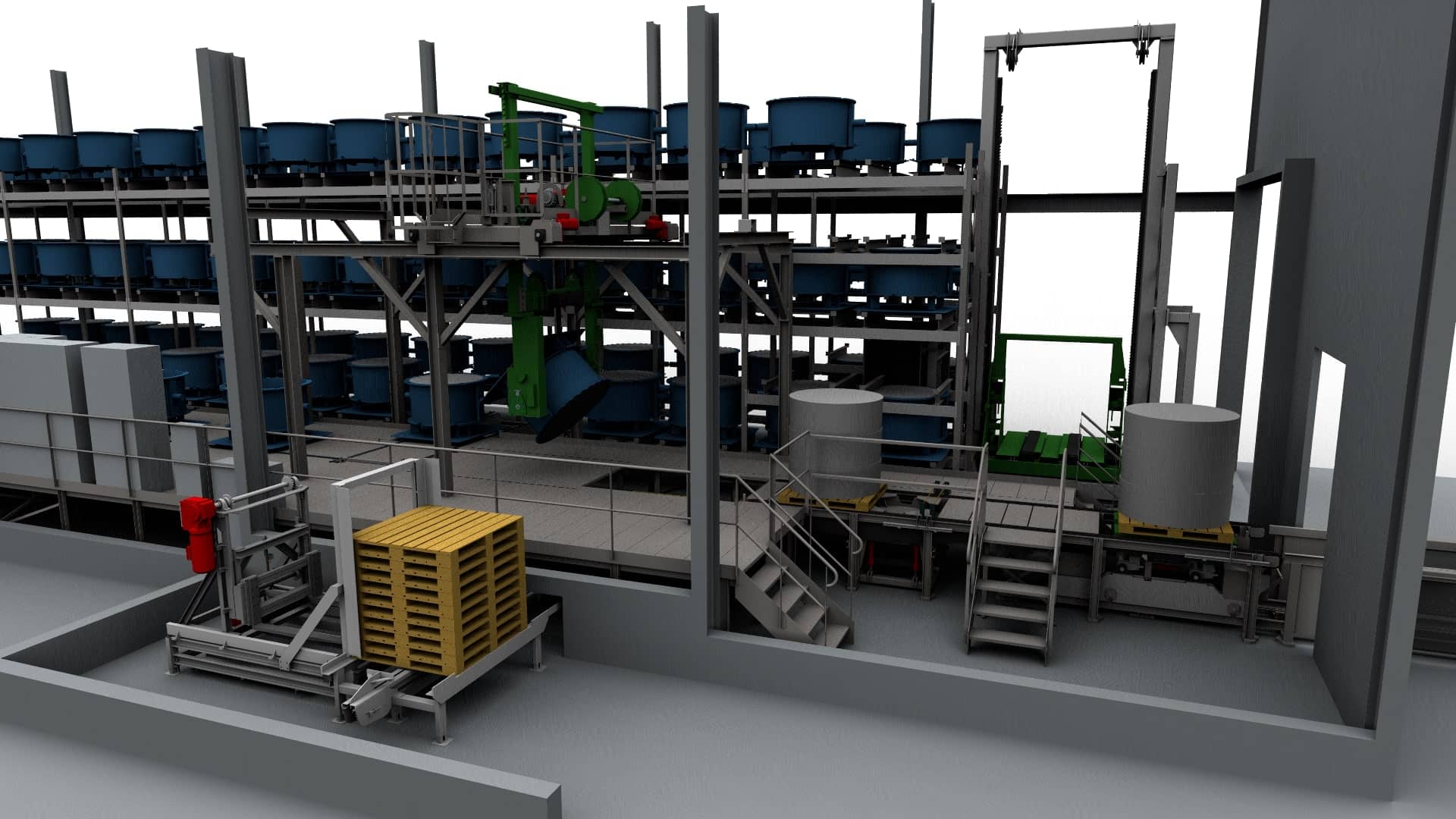 For heavy clay materials
Lines that help you improve your profitability
handling (cutters, loaders, stackers, wagon handling, unstackers, palletizers and packers)
equipment (robotic car cleaners, car wheels, oven doors)
dryers with innovative mechanisms (ANJOU® APO fast dryer with optimized pitch).
Automated wagon dust cleaner
Automated cleaner for better stacking and optimal brick quality.
Cleaning reduces the rate of product non-conformance and ensures a longer life for kiln cars.
Air Flow Control: high air flow, high vacuum, no turbulence,
Without physical contact with the car, without a flap,
Moving and positioning of false floors (optional).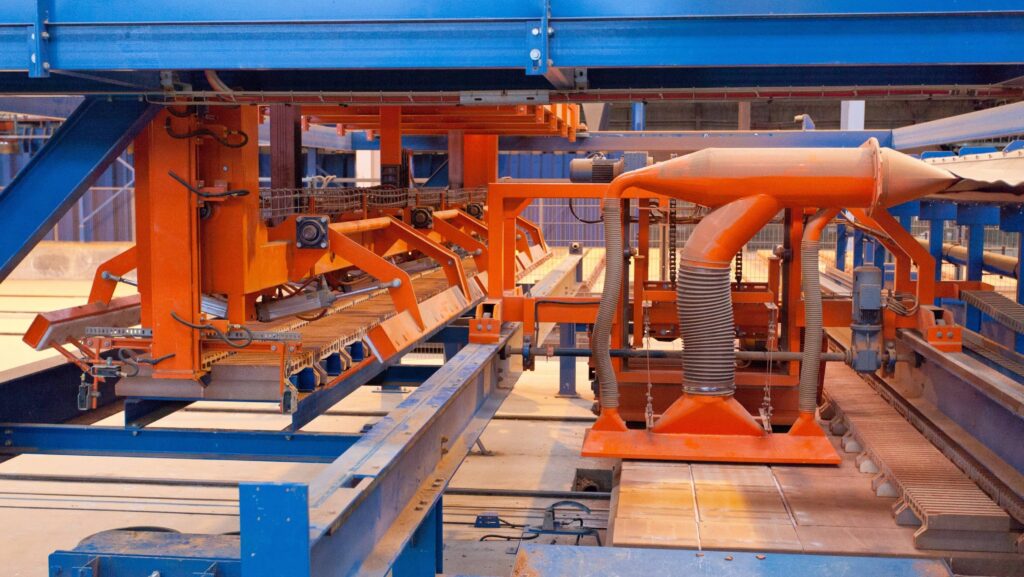 Unstacker/packer (palletizing bricks without pallet)
Experience real productivity gains with this equipment. It allows to unstack the products directly on a truck or on a belt.
Everything is done to guarantee a high quality of products, at high speed.
up to 9,000 bricks per hour,
with strapping machine for packages of 4 or 5 rows of bricks of 1200 mm x 1200 mm, without pallet,
carrying of bricks (limits roller conveying to corner conveyors),
clamp designed to minimize impact against the stops.